No-mess pasta
Preparation time

10 minutes

Cooking time

25 minutes

Serves

4
Ingredients
oil for cooking
1 onion, diced
1 clove garlic, crushed
500g lean beef mince
400g can crushed tomatoes
4 cups beef stock
2 tbsp tomato paste
1 tsp brown sugar
1 tsp fresh basil, plus extra to serve
375g small shell pasta
1 cup mixed frozen vegetables
parmesan cheese, to serve
Method
Heat oil in a large non-stick saucepan over medium heat. Add onion and garlic and cook for 2–3 minutes until softened. Add mince and cook, stirring occasionally until browned, breaking up any lumps with a wooden spoon.
Add tomatoes, stock, tomato paste, sugar and basil and simmer for 5 minutes.
Stir in pasta. Return to boil and cook 10 minute or until pasta is almost cooked. Add vegetables and cook for a further 5 minutes or until pasta is tender. Stir regularly and add additional boiling water if required.
Serve with extra fresh basil and cheese.
Nutrition
| ANALYSIS per serve | 4 |
| --- | --- |
| Energy kJ (Cal) | 2388 |
| Carbohydrate (g) | 76 |
| Protein (g) | 39 |
| Fat (g) | 10 |
| Saturated fat (g) | 4 |
| Fibre (g) | 7 |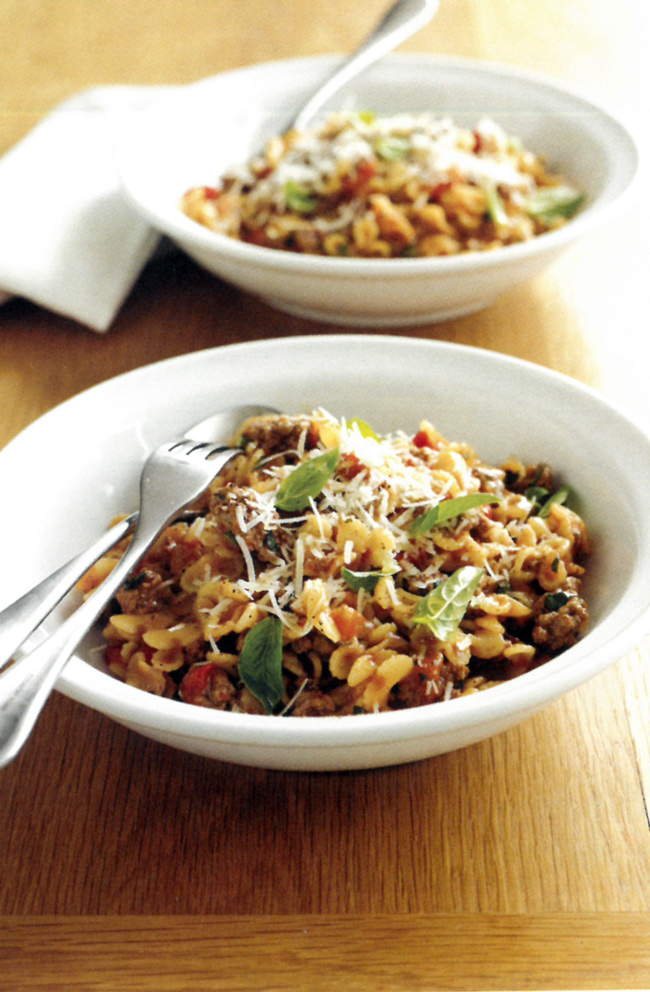 Australian Institute of Sport - From the "Survival for the Active Family" cookbook
05 Nov 2018
, Pasta, survival-for-the-active-family
Pasta
Return to top