Mustard burgers with coleslaw
Ingredients
Olive or canola oil spray
1 onion, finely diced
2 tsp minced garlic
1 tsp minced chilli
600g premium beef mince
1 tbs wholegrain mustard
2 tbs tomato paste
2 tbs finely chopped gherkins
2 tbs chopped fresh chives
freshly ground black pepper
8 hamburger buns
mustard and tomato sauce, to serve
Coleslaw:
200g white cabbage, chopped
200g red cabbage, chopped
1 large carrot, grated
2 sticks celery, finely chopped
1 small red capsicum, deseeded and finely chopped
1/2 cup low-fat coleslaw dressing
2 tbs chopped fresh chives
Method
To make coleslaw, combine all ingredients in a large bowl.
Refrigerate until serving.
Spray non-stick frypan with oil and cook onion, garlic and chilli over medium heat for 5 minutes or until onion is soft.
Combine onion mixture with mince, mustard, tomato paste, gherkins and chives, and season with pepper.
Shape mixture into 8 patties and refrigerate for 15-30 minutes.
Cook patties in a non-stick frypan over medium heat for 8 minutes, then turn and cook for 5 minutes more or until cooked through.
Serve the patties with buns, mustard, tomato sauce and coleslaw.
Athletes with high fuel needs (e.g. endurance athletes, athletes who are growing, athletes aiming to increase muscle mass) require extra carbohydrate-based ingredients and a larger serve size
Athletes with low fuel needs (e.g. skill-based athletes, athletes trying to reduce body fat) need to opt for a smaller serve size
Nutrition
ANALYSIS

High Fuel




2 burgers

Low Fuel




1 burger

Energy (kJ)

3208

1604

Protein (g)

48

24

Fat (g)

20

10

Carbohydrate (g)

90

45

Iron, Vitamin C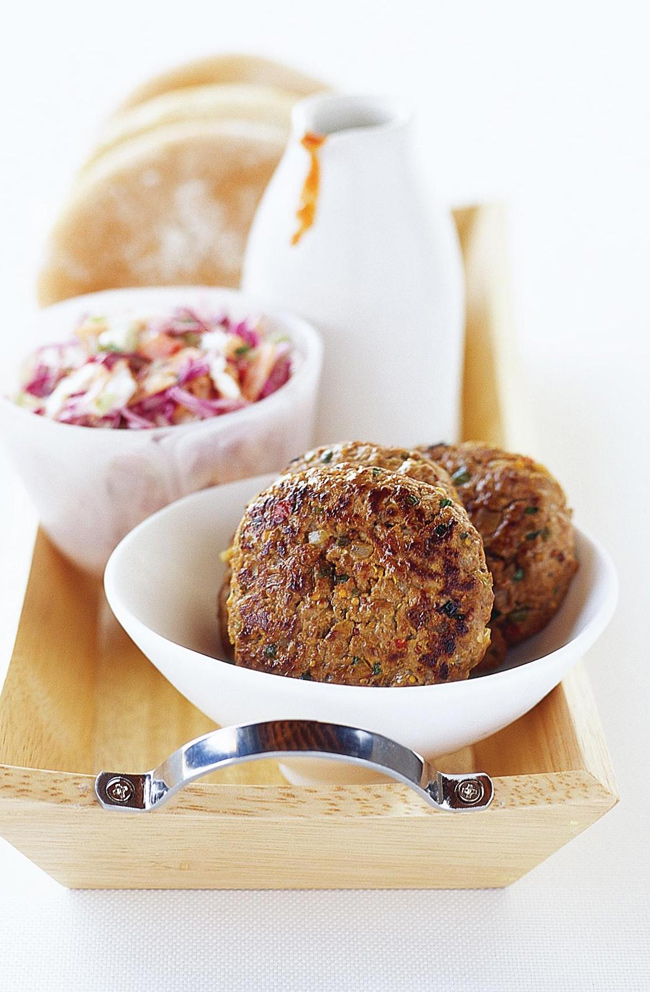 Australian Institute of Sport - From the "Survival Around the World" cookbook
05 Nov 2018
yes, Sandwiches and Snacks, survival-around-the-world
Sandwiches and Snacks
Return to top