Moroccan-style beef with couscous
Preparation time

20 minutes

Cooking time

15 minutes

Serves

4-6
Ingredients
Spray canola or olive oil
500 g lean beef, cut into strips
1 onion, cut into thin wedges
1 teaspoon minced garlic
½ teaspoon finely chopped red chilli
1 teaspoon ground cumin
¼ teaspoon turmeric
400 g can crushed tomatoes
250 ml (1 cup) MAGGI Beef Stock
2 zucchini (courgette), sliced
4 large silverbeet leaves, shredded
½ cup sultanas
2 cups couscous
½ cup toasted slivered almonds
Method
Spray a nonstick wok or frying pan with oil and heat.
Stirfry beef in 2 batches over high heat for 3-4 minutes or until well browned.
Remove from the pan and set aside.
Add onion to the pan and cook over medium heat for 3 minutes or until soft.
Add the garlic, chilli and spices and stirfry for about 30 seconds.
Stir in the tomatoes and stock, bring to the boil and reduce the heat.
Add the zucchini, silverbeet and sultanas, simmer for 5 minutes, stirring occasionally.
Put the couscous in a heatproof bowl and add 2 cups of boiling water.
Cover tightly and stand for 3 minutes, then fluff up with a fork before serving.
Return beef to the pan to heat and serve over couscous, sprinkled with almonds.
HINT: This recipe is fairly mild, so add a little more chilli if you like a 'hotter' flavour
Nutrition
| ANALYSIS per serve | 4 | 6 |
| --- | --- | --- |
| Energy kJ (Cal) | 2762 (660) | 1841 (440) |
| Carbohydrate (g) | 86 | 58 |
| Protein (g) | 43 | 29 |
| Fat (g) | 15 | 11 |
| Iron, Zinc | | |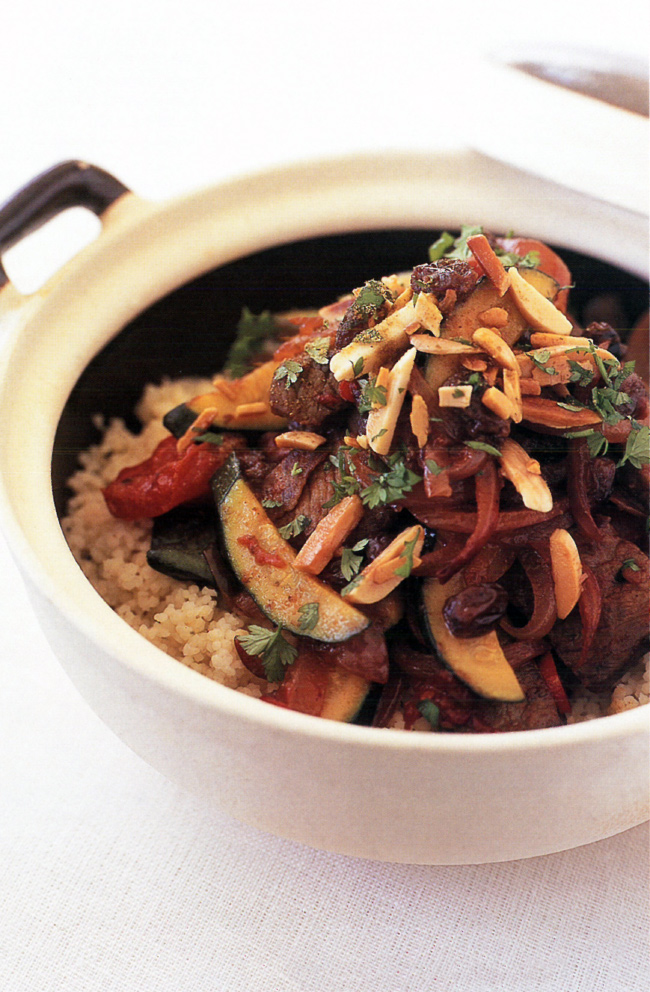 Australian Institute of Sport - From the "Survival for the Fittest" cookbook
05 Nov 2018
HINT: This recipe is fairly mild, so add a little more chilli if you like a 'hotter' flavour
, Spice, survival-for-the-fittest
Spice
Return to top