Moroccan lamb pizza
Preparation time

5 minutes

Cooking time

20 minutes

Serves

2
Ingredients
oil for cooking
1 tsp ground cumin
1 tsp sweet paprika
pinch cayenne pepper
100g lamb backstrap
1 large pita bread
½ cup tzatziki dip
½ small red onion, sliced
100g cherry tomatoes, halved
50g marinated red capsicum, sliced
50g pine nuts
50g marinated fetta
10g rocket leaves
Method
Preheat oven to 220°C.
Combine oil, cumin, paprika and cayenne pepper in a small bowl and rub over lamb.
Heat a medium non-stick frying pan over medium heat. Add lamb and cook on each side for 1-2 minutes or until browned.
Set aside to rest and slice into thin strips.
Spread pita bread with tzatziki dip and add the red onion, lamb, cherry tomatoes, red capsicum, pine nut and fetta.
Place on a baking tray lined with non-stick baking paper.
Bake for 15-20 minutes, until base is crispy. Top with rocket.
Nutrition
| ANALYSIS per serve | 2 |
| --- | --- |
| Energy kJ (Cal) | 2056 |
| Carbohydrate (g) | 34 |
| Protein (g) | 28 |
| Fat (g) | 26 |
| Saturated fat (g) | 6 |
| Fibre (g) | 4 |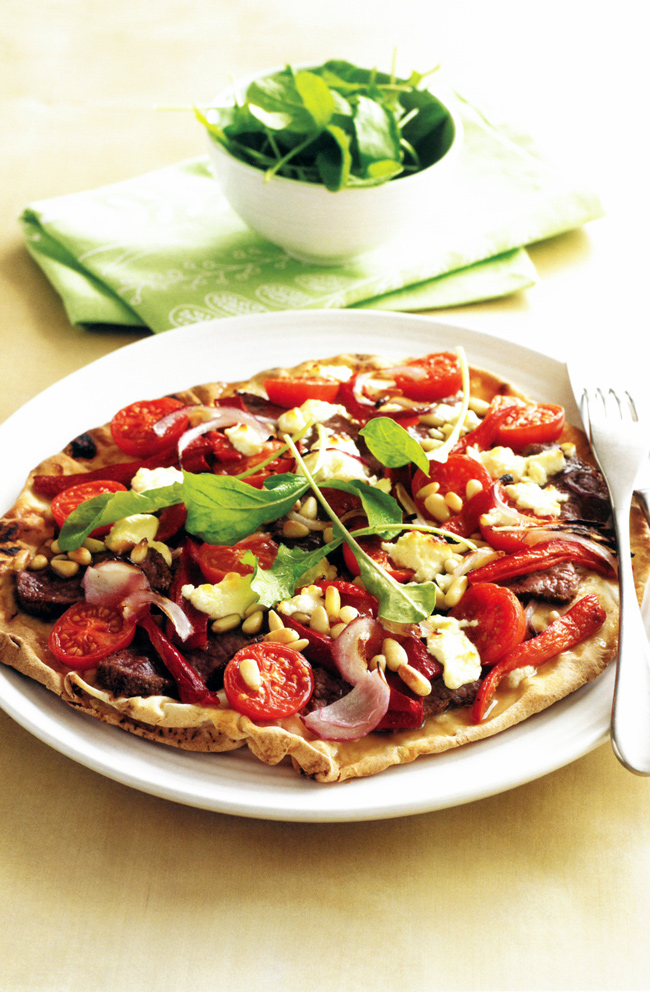 Australian Institute of Sport - From the "Survival for the Active Family" cookbook
05 Nov 2018
, Bakes and Grills, survival-for-the-active-family
Bakes and Grills
Return to top