Mild beef curry
Preparation time

20 minutes

Cooking time

60 minutes

Serves

4-6

Freezable

yes
Ingredients
Spray canola or olive oil
750 g lean diced beef
1 large onion, chopped
2 teaspoons minced garlic
2 teaspoons minced ginger
1 tablespoon curry powder
500 mL (2 cups) MAGGI Beef Stock
1 red capsicum, chopped
2 carrots, sliced
500 g potatoes, cut into 3cm pieces
Method
Spray a large pan with oil and heat.
Cook the meat over medium heat in 2 batches for 2-3 minutes or until well browned.
Set aside.
Spray a little more oil into the pan, add the onion and cook for 3 minutes or until soft.
Add the garlic, ginger and curry powder and stir-fry for about 30 seconds.
Gradually add the stock, stirring to scrape the spices from the bottom of the pan.
Return the meat to the pan.
Bring to the boil, reduce the heat to low and cook, covered, for 30 minutes.
Add the vegetables to the pan and cook for a further 30 minutes or until the meat is tender.
Uncover the pan for the last 15 minutes of cooking, and stir regularly, so the gravy thickens.
Serve with long-grain or basmati rice.
HINT: The flavour of curry improves overnight. Transfer to a bowl, cool, cover with plastic wrap and refrigerate until needed. You can also freeze curries in airtight containers
Nutrition
| ANALYSIS per serve | 4 | 6 |
| --- | --- | --- |
| Energy kJ (Cal) | 2686 (642) | 1791 (428) |
| Carbohydrate (g) | 103 | 69 |
| Protein (g) | 39 | 26 |
| Fat (g) | 7 | 5 |
| Iron, Vitamin C, Zinc | | |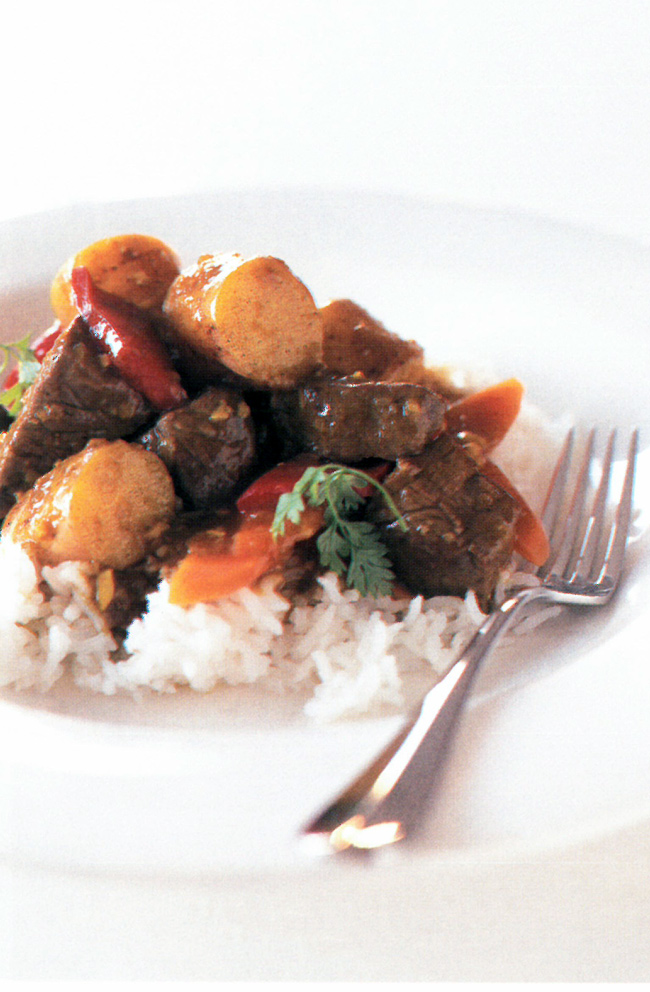 Australian Institute of Sport - From the "Survival for the Fittest" cookbook
05 Nov 2018
HINT: The flavour of curry improves overnight. Transfer to a bowl, cool, cover with plastic wrap and refrigerate until needed. You can also freeze curries in airtight containers
yes, Spice, survival-for-the-fittest
Spice
Return to top