Midweek roast chicken
Preparation time

5 minutes

Cooking time

25 minutes

Serves

4
Ingredients
700g chicken thigh fillets
oil for cooking
1 clove garlic, crushed
1 tsp chopped fresh rosemary
1 tbsp fresh lemon juice
salt and pepper, taste
4 medium potatoes, roughly chopped
salad or steamed vegetables, to serve
Method
Preheat oven to 200°C. Combine chicken, oil, garlic, rosemary, lemon juice in plastic bag. Season with salt and pepper. Massage to combine.
Microwave potato on high for 6 minutes or until just tender.
Heat a large non-stick frying pan over medium to high heat. Cook chicken for 6 minutes or until brown. Remove from pan, set aside.
Add oil to pan. Add potato and cook for 8 minutes or until golden. Toss the chicken and potato into a baking dish and place in oven. Cook for 10 minutes or until cooked through.
Serve with salad or steamed vegetables.
Nutrition
| ANALYSIS per serve | 4 |
| --- | --- |
| Energy kJ (Cal) | 1546 |
| Carbohydrate (g) | 17 |
| Protein (g) | 36 |
| Fat (g) | 17 |
| Saturated fat (g) | 4 |
| Fibre (g) | 2 |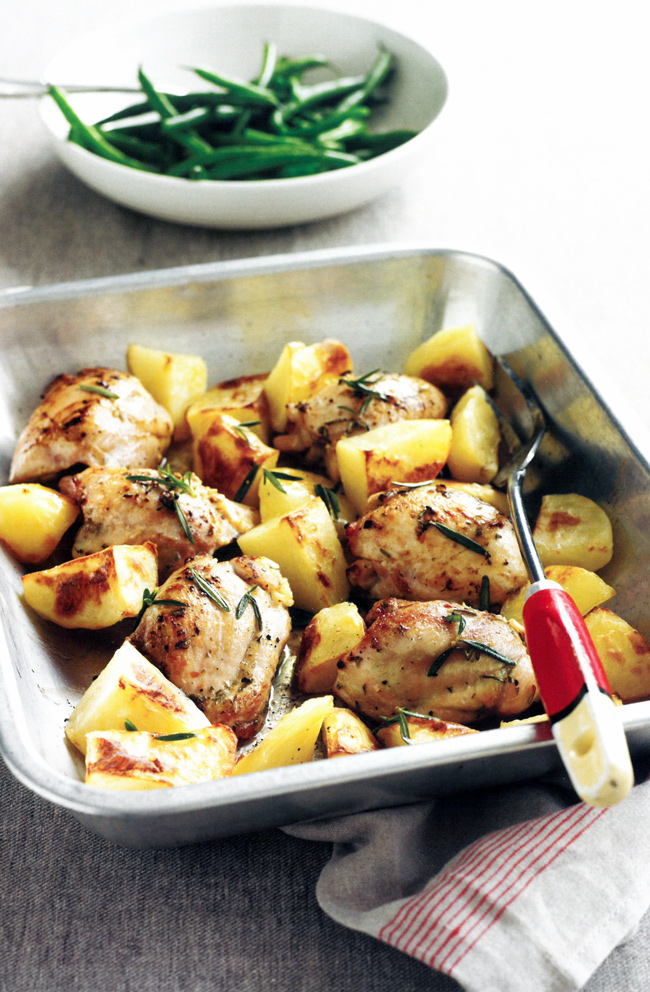 Australian Institute of Sport - From the "Survival for the Active Family" cookbook
05 Nov 2018
, Bakes and Grills, survival-for-the-active-family
Bakes and Grills
Return to top