Michael's beef curry in a hurry
Preparation time

15 minutes

Cooking time

30 minutes

Serves

4-6

Freezable

yes
Ingredients
2 cups basmati rice
olive or canola oil spray
500 g rump steak, sliced
1 onion, sliced
2 teaspoons curry powder (e.g. Madras-style blend)
375 ml CARNATION Light and Creamy Evaporated Milk
1 teaspoon coconut essence
1 cup MAGGI All Natural Beef Liquid Stock
300 g potatoes, cubed
200 g button mushrooms, quartered
150 g green beans, halved
1 red capsicum, sliced
1 tablespoon cornflour
Method
Cook rice in a large saucepan of boiling water for 12 minutes or until tender.
Drain well.
Spray a nonstick wok or frying pan with oil and heat.
Cook beef in 2 batches over high heat until browned.
Remove from wok.
Cook onion and curry powder over medium heat for 2 minutes or until onion is soft.
Stir in milk, coconut essence and stock.
Bring to simmer.
Add potato and mushrooms and cook, uncovered, for 10 minutes, until potato is soft.
Add beans and capsicum, and cook for 5 minutes, until tender but crisp.
Blend cornflour with 2 tablespoons water.
Add to curry, stirring until sauce boils and thickens slightly.
Add beef and heat through.
Serve with rice.
Garnish with chervil, if desired.
HINT: Most curries freeze well as the flavour develops on standing
Nutrition
| ANALYSIS per serve | 4 | 6 |
| --- | --- | --- |
| Energy kJ (Cal) | 2929 (698) | 1947 (456) |
| Carbohydrate (g) | 108 | 72 |
| Protein (g) | 48 | 32 |
| Fat (g) | 8 | 5 |
| Iron, Vitamin C, Zinc, Calcium | | |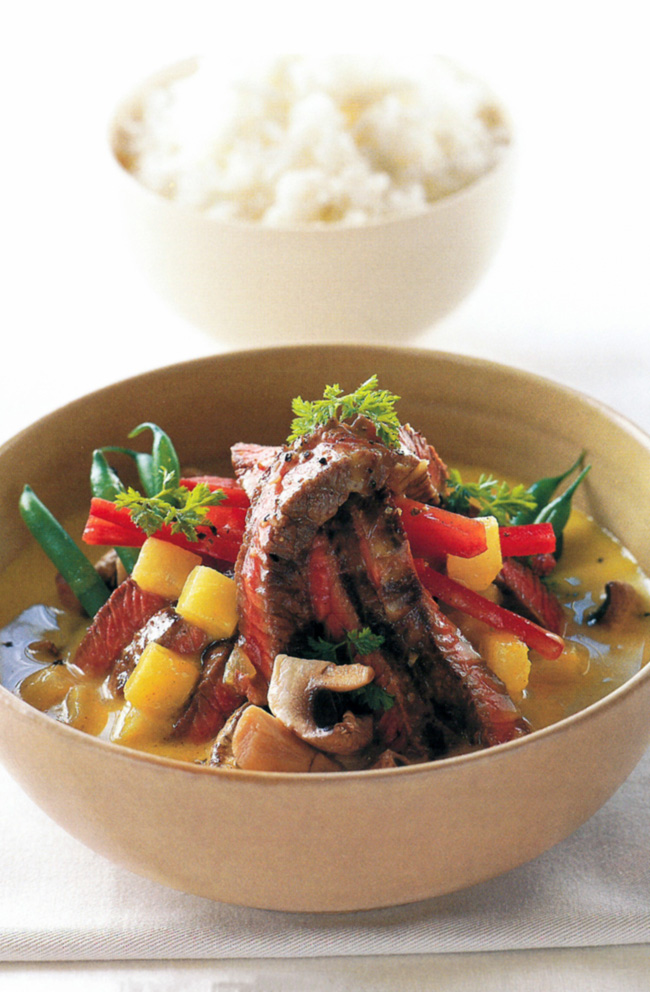 Australian Institute of Sport - From the "Survival from the Fittest" cookbook
05 Nov 2018
HINT: Most curries freeze well as the flavour develops on standing
yes, Spice, survival-from-the-fittest
Spice
Return to top