Ingredients
Olive or canola oil spray
1 small onion, diced
1 tsp minced garlic
1 tsp minced chilli
1 1/2-2 cups long-grain white rice
1/2 cup tomato puree
3 cups MAGGI Real Chicken Stock
2 carrots, diced
1/2 cup fresh or frozen peas
420g can four bean mix, rinsed and drained
1/2 cup blanched almonds
Method
Spray a non-stick saucepan with oil and cook onion, garlic and chilli over medium heat until soft.
Add rice and cook, stirring, for 2 minutes.
Add tomato puree and cook for a further 2-3 minutes.
Add stock and bring to the boil, then add vegetables and beans.
Reduce heat to low, cover and simmer for 15 minutes.
Stir in almonds and heat through.
Athletes with high fuel needs (e.g. endurance athletes, athletes who are growing, athletes aiming to increase muscle mass) require extra carbohydrate-based ingredients and a larger serve size
Athletes with low fuel needs (e.g. skill-based athletes, athletes trying to reduce body fat) need to opt for a smaller serve size
Nutrition
ANALYSIS

High Fuel




4

Low Fuel




6

Energy (kJ)

2669

1527

Protein (g)

21

13

Fat (g)

13

8

Carbohydrate (g)

103

55

Iron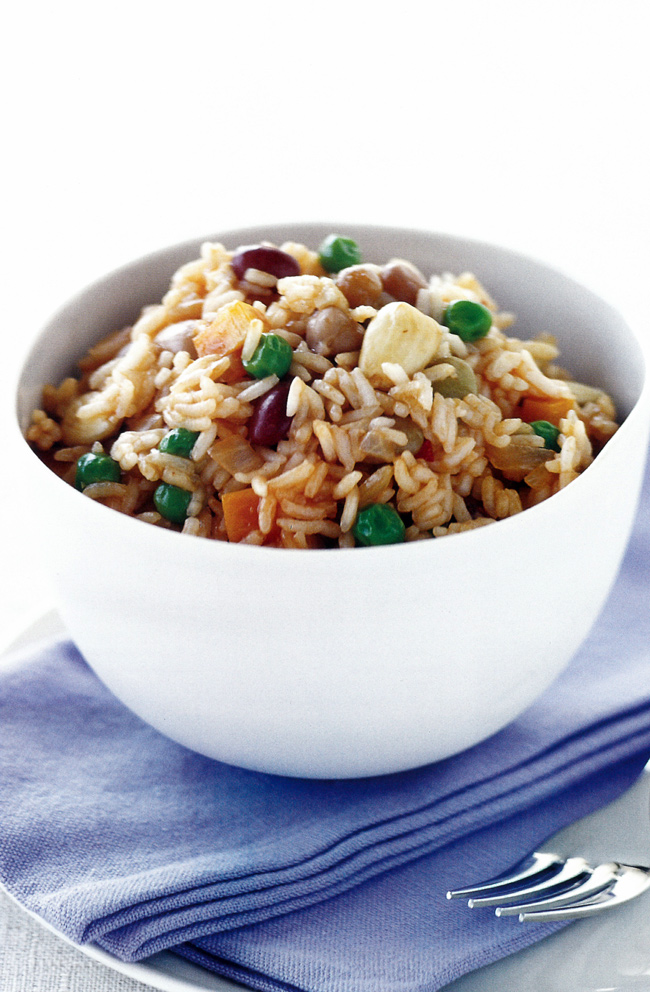 Australian Institute of Sport - From the "Survival Around the World" cookbook
05 Nov 2018
yes, Rice, survival-around-the-world
Rice
Return to top