Mexican pizza
Preparation time

5 minutes

Cooking time

25 minutes

Serves

4
Ingredients
2 pizza bases with tomato sauce
½ tsp chilli flakes (optional)
oil for cooking
400g lean beef mince
220g tomato salsa
400g can red kidney beans, rinsed and drained
1 small red capsicum, finely chopped
1 cup reduced-fat grated cheese
1 avocado, sliced
sour cream, to serve
MAGGI Sweet Chilli Sauce, to serve
Method
Preheat oven to 200°C. Line 2 pizza trays with baking paper. Place pizza bases on prepared trays and sprinkle with chilli flakes, if desired.
Heat oil in a medium non-stick frying pan over medium to high heat. Add the mince and cook for 3–4 minutes, breaking up any lumps with a wooden spoon.
Stir in salsa, kidney beans and capsicum and cook for 3 minutes. Allow to cool slightly.
Spread mixture over each pizza base. Top with cheese.
Place pizzas on greased trays and bake for 10–15 minutes or until base is cooked and cheese is melted and golden
Arrange slices of avocado on top, dollop with sour cream and drizzle over MAGGI Sweet Chilli Sauce.
Nutrition
| ANALYSIS per serve | 4 |
| --- | --- |
| Energy kJ (Cal) | 3338 |
| Carbohydrate (g) | 80 |
| Protein (g) | 50 |
| Fat (g) | 28 |
| Saturated fat (g) | 8 |
| Fibre (g) | 13 |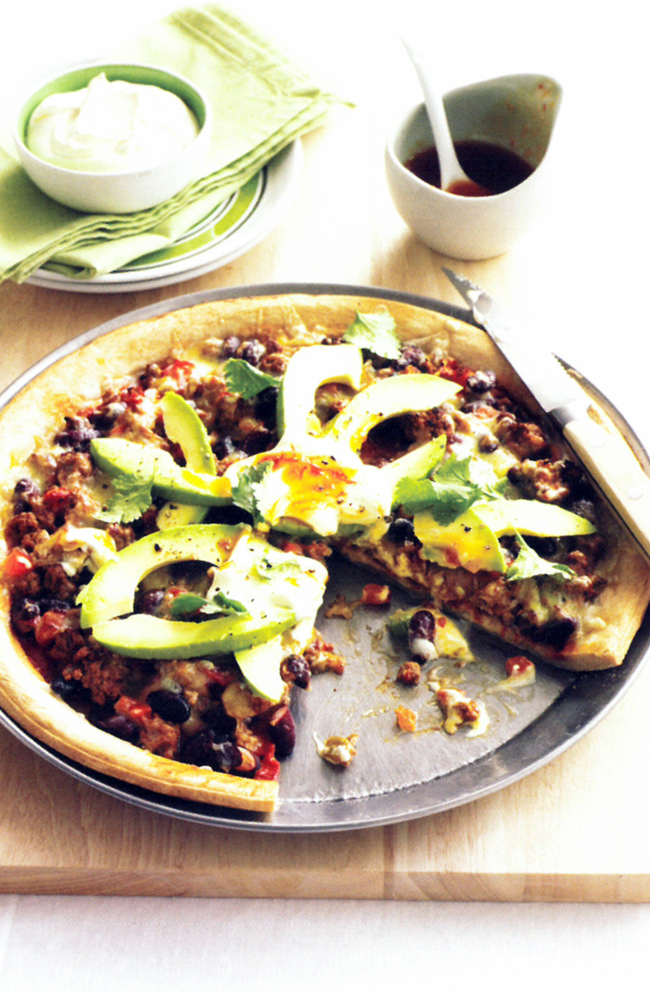 Australian Institute of Sport - From the "Survival for the Active Family" cookbook
05 Nov 2018
, Bakes and Grills, survival-for-the-active-family
Bakes and Grills
Return to top