Mexican chicken lasagne
Preparation time

25 minutes

Cooking time

40 minutes

Serves

6
Ingredients
oil for cooking
600g chicken mince
1 red capsicum, finely chopped
440g can red kidney beans, rinsed and drained
1 carrot, grated
425g can corn kernels, rinsed and drained
500g jar tomato-based pasta sauce
400g can crushed tomatoes
375g fresh lasagne sheets (approx 8 sheets)
1½ cups low-fat ricotta cheese
½ cup grated reduced-fat cheese
Method
Preheat oven to 180°C.
Heat oil in medium non-stick frying pan over high heat. Cook mince for about 5 minutes or until browned, breaking up and lumps with a wooden spoon.
Add the capsicum, chilli, beans, carrot, corn, pasta sauce and tomatoes and stir until heated.
Lightly oil a 12-cup-capacity baking dish. Cut the pasta sheets to size and arrange a layer of pasta over the base of the dish. Top with a thin layer of sauce. Continue layering the pasta and sauce, finishing with a layer of pasta.
Top with ricotta over and sprinkle with the grated cheese.
Bake for 30-35 minutes. Stand for 5 minutes before serving.
Nutrition
| ANALYSIS per serve | 6 |
| --- | --- |
| Energy kJ (Cal) | 2335 |
| Carbohydrate (g) | 65 |
| Protein (g) | 43 |
| Fat (g) | 16 |
| Saturated fat (g) | 7 |
| Fibre (g) | 11 |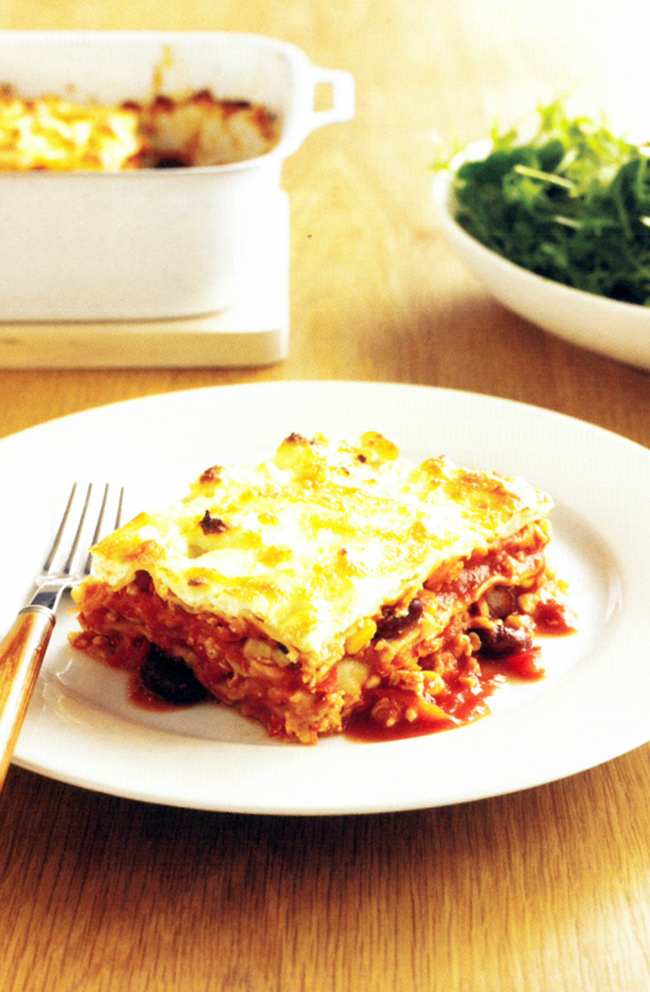 Australian Institute of Sport - From the "Survival for the Active Family" cookbook
05 Nov 2018
, Bakes and Grills,Pasta, survival-for-the-active-family
Bakes and Grills,Pasta
Return to top