Louise's secret lasagne
Preparation time

15 minutes

Cooking time

40 minutes

Serves

4-6

Freezable

yes
Ingredients
Spray of

canola or olive oil

800 g

lean beef mince

575 g

jar of

tomato-based pasta sauce

herbs and spices, to taste

375 g

fresh lasagne sheets

450 g

can of tomato soup

½ cup

grated reduced-fat tasty cheese
Method
Preheat the oven to 170°C (325°F).

Spray a nonstick frying pan or wok with oil and heat.

Add mince and brown completely.

Add pasta sauce and simmer for a few minutes.

Season with herbs to taste.

Spray the base of a lasagne or casserole dish with oil.

Make the lasagne starting with a layer of pasta and alternating with a thin layer of pasta.

You should fit 6 layers of pasta in a typical lasagne dish.

Finish with a layer of pasta.

Pour soup over the assembled lasagne and sprinkle a thin layer of cheese on top.

Bake in the oven for 25-30 minutes.

Serve with a salad or steamed vegetables and crusty bread.
Calories per serving:

679
HINT: This recipe can also be made with tuna or salmon, minced chicken or finely chopped vegetables instead of the beef
Nutrition
| ANALYSIS per serve | 4 | 6 |
| --- | --- | --- |
| Energy kJ (Cal) | 2841 (679) | 1894 (452) |
| Carbohydrate (g) | 78 | 52 |
| Protein (g) | 60 | 40 |
| Fat (g) | 14 | 9 |
| Iron, Zinc, Calcium | | |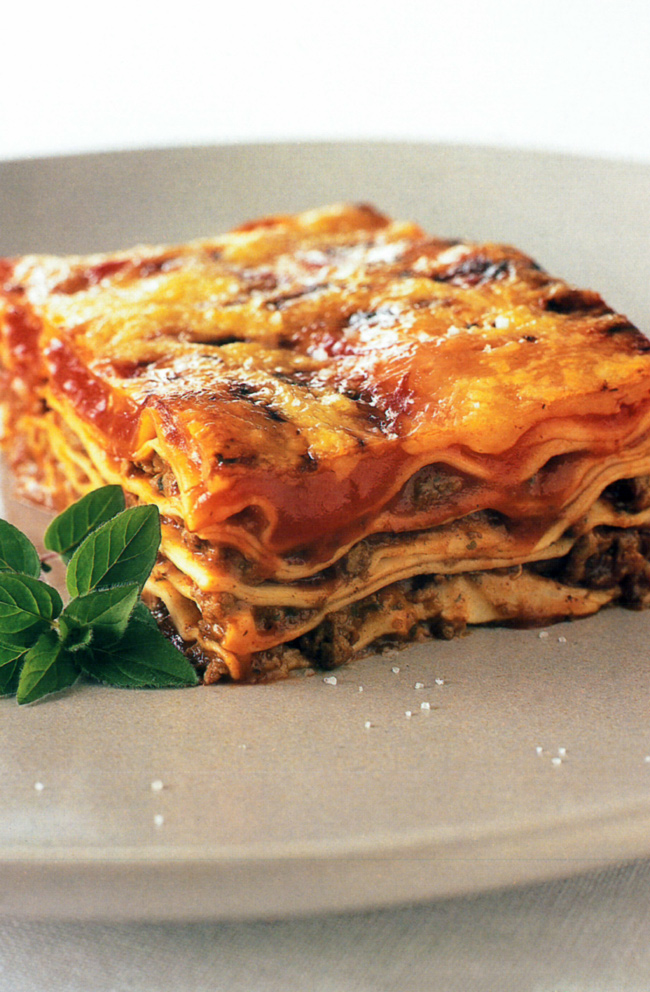 Australian Institute of Sport - From the "Survival for the Fittest" cookbook
05 Nov 2018
HINT: This recipe can also be made with tuna or salmon, minced chicken or finely chopped vegetables instead of the beef
yes, Pasta,Bakes and Grills, survival-for-the-fittest
Pasta,Bakes and Grills
Return to top