Lemon self-saucing pudding
Ingredients
1 cup self-raising flour
¾ cup caster sugar
1 egg
40 g butter, melted
½ cup skim milk
grated rind and juice of 2 lemons
1 tbs cornflour
1 tbs custard powder
icing sugar, to serve
PETERS Light & Creamy Ice-cream or NESTLÉ All Natural 99% Fat Free Vanilla Yoghurt, to serve (optional)
Method
Preheat oven to 180°C (350°F).
Combine flour and ¼ cup of the caster sugar in a bowl.
Add egg, butter, milk and lemon rind and beat to combine.
Pour into a 6-cup capacity ovenproof dish.
Combine cornflour, custard powder and the remaining ½ cup of caster sugar and sprinkle over top of pudding.
Combine lemon juice with 1½ cups boiling water an pour over pudding.
Bake pudding for 30-40 minutes or until puffed and golden.
Dust with sifted icing sugar and serve with ice-cream or yoghurt, if desired.
Athletes with high fuel needs (e.g. endurance athletes, athletes who are growing, athletes aiming to increase muscle mass) require extra carbohydrate-based ingredients and a larger serve size
Athletes with low fuel needs (e.g. skill-based athletes, athletes trying to reduce body fat) need to opt for a smaller serve size
Tips: Serve immediately — if you allow the pudding to stand, the sauce will be absorbed back in to the cake. You can substitute the lemon with orange or lime, or try a combination of all three citrus fruits
Nutrition
ANALYSIS per serve

High Fuel




4

Low Fuel




6

Energy (kJ)

1649

1099

Protein (g)

6

4

Fat (g)

10

6

Carbohydrate (g)

71

47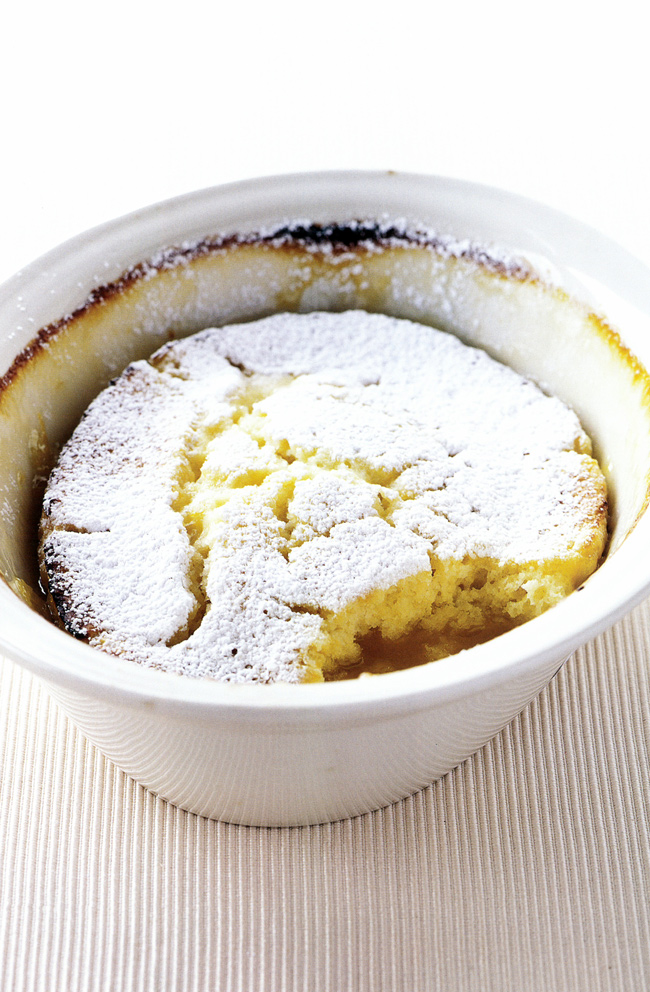 Australian Institute of Sport - From the "Survival Around the World" cookbook
05 Nov 2018
Tips: Serve immediately — if you allow the pudding to stand, the sauce will be absorbed back in to the cake. You can substitute the lemon with orange or lime, or try a combination of all three citrus fruits
no, Treats, survival-around-the-world
Treats
Return to top