Lemon-lime cheesecake
Preparation time

20 minutes + 3 hours refrigeration

Cooking time

1 minute

Serves

6-8
Ingredients
100 g reduced-fat butternut biscuits
2 tablespoons margarine, melted
250 g reduced-fat cream cheese
1 tablespoon finely grated lemon rind
2 teaspoons finely grated lime rind
400 g can CARNATION Sweetened Condensed Skim Milk
2 tablespoons lemon juice
2 tablespoons lime juice
3 teaspoons gelatine
2 egg whites
Method
Lightly grease a 20-cm round nonstick springform pan.
Place biscuits in a food processor and process until finely crushed.
Add margarine, and process briefly until evenly moistened.
Press crumbs into the base of the pan, smoothing with the back of a spoon.
Refrigerate while making the filling.
Using electric beaters, beat cream cheese with lemon and lime rind until combined.
Add milk and lemon and lime juice, and beat until smooth.
Put 1½ tablespoons hot water in a small bowl and sprinkle over gelatine.
Stand the bowl in a saucepan with about 1-2 cm hot water and place over low heat for 1 minute until gelatine has softened.
Remove bowl from saucepan and whisk gelatine, using a fork, to dissolve.
Set aside to cool slightly.
Beat egg whites in a clean dry bowl, with clean beaters, until soft peaks form.
Add egg whites and gelatine to cream cheese mixture and fold gently until combined.
Using a rubber spatula or metal spoon, work carefully so as not to lose the volume from the egg whites.
Pour over the base and refrigerate for 3 hours, until set.
Serve with fresh fruit.
HINT: For special occasions, top cheesecake with fresh blueberries or raspberries when it is almost set. This recipe keeps in the fridge for 3 days
Nutrition
| ANALYSIS per serve | 6 | 8 |
| --- | --- | --- |
| Energy kJ (Cal) | 1502 (359) | 1126 (269) |
| Carbohydrate (g) | 47 | 35 |
| Protein (g) | 13 | 10 |
| Fat (g) | 14 | 10 |
| Calcium | | |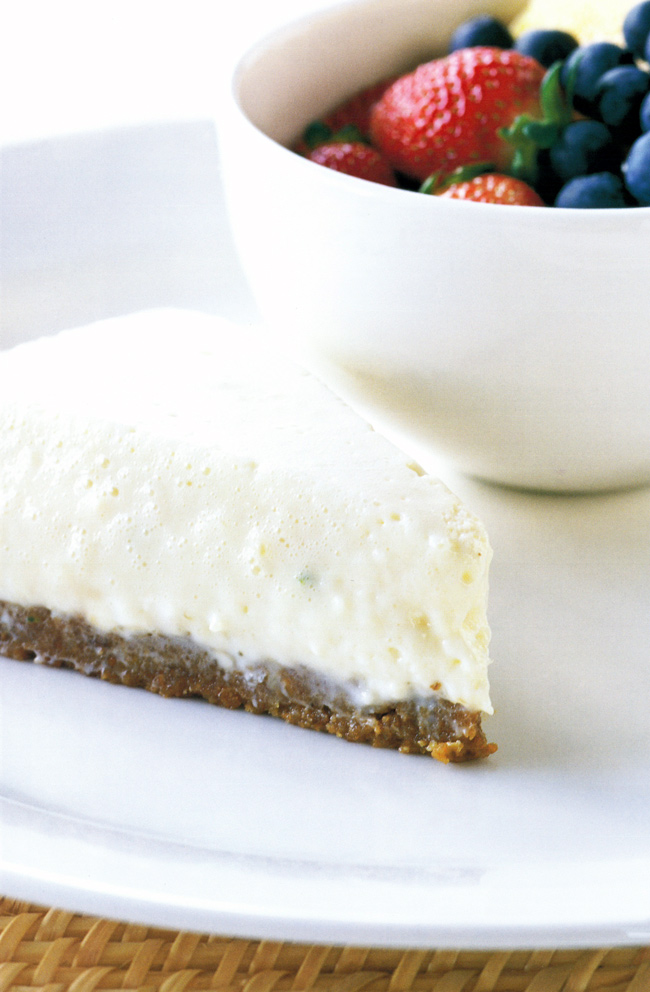 Australian Institute of Sport - From the "Survival from the Fittest" cookbook
05 Nov 2018
HINT: For special occasions, top cheesecake with fresh blueberries or raspberries when it is almost set. This recipe keeps in the fridge for 3 days
no, Treats, survival-from-the-fittest
Treats
Return to top