Layered ricotta & vegetable cob
Preparation time

15 minutes

Cooking time

30 minutes

Serves

4
Ingredients
1 wholemeal cob loaf
olive or canola oil spray
2 red capsicums, halved and seeded
2 zucchini, cut into thin slices lengthways
150 g low-fat ricotta cheese
130 g can creamed corn
130 g can corn kernels, drained
2 tablespoons snipped fresh chives
2 hard-boiled eggs, chopped
50 g baby spinach leaves
Method
Preheat oven to 200°C (400°F).
Slice top off cob and scoop out bread, leaving a 1-cm border on the inside.
Place scooped bread in a food processor and process to form breadcrumbs.
Spray a chargrill pan or barbecue plate with oil and heat.
Grill capsicum until the skin blisters and blackens, transfer to a plastic bag ad allow to cool, then peel away the skin.
Grill zucchini on both sides until tender.
Combine ricotta, creamed corn, corn kernels, chives, breadcrumbs and egg.
Spread a quarter of the mixture over the cob base.
Top with a quarter of the spinach, a quarter of the capsicum and a quarter of the zucchini.
Repeat layers until you have used all the ingredients, then lightly press down and replace the top of the cob loaf.
Bake for 20 minutes or until the outside is crisp and filling is heated through.
Allow to cool, then slice into wedges and serve with salad.
HINT: Drain the ricotta well before using - this will help prevent the cob from becoming soggy
Nutrition
| ANALYSIS per serve | 4 |
| --- | --- |
| Energy kJ (Cal) | 2339 (559) |
| Carbohydrate (g) | 82 |
| Protein (g) | 27 |
| Fat (g) | 13 |
| Calcium, Fibre, Iron, Vitamin C, Zinc | |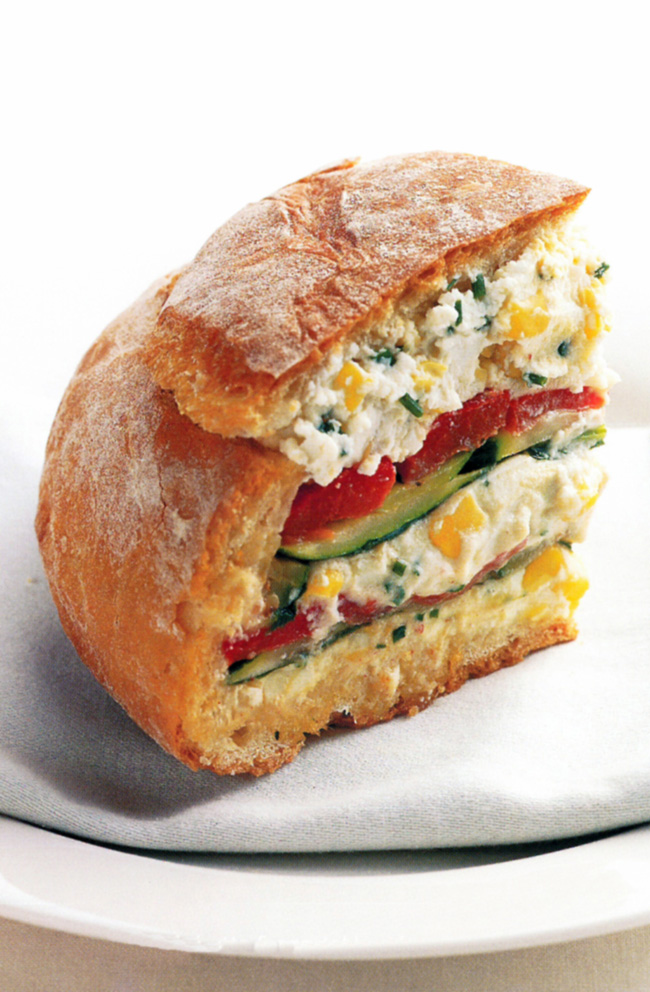 Australian Institute of Sport - From the "Survival from the Fittest" cookbook
05 Nov 2018
HINT: Drain the ricotta well before using - this will help prevent the cob from becoming soggy
, Sandwiches and Snacks, survival-from-the-fittest
Sandwiches and Snacks
Return to top