Lamb souvlaki with pita bread and tzatziki
Ingredients
You will need 6-8 metal skewers or bamboo skewers, soaked in water
700g lamb, trimmed and cut into 3cm strips
1/4 cup lemon juice
1/2 tsp each salt and freshly
ground pepper
1 1/2 tbs dried oregano
2 tsp minced garlic
1/4 cup grated onion
1 cup rice (omit for Low Fuel)
olive or canola oil spray
1 large white onion, thinly sliced
6-8 pita breads
2 cups shredded lettuce
200g cherry tomatoes, halved
1 Lebanese cucumber, diced
1 cup low-fat tzatziki dip
Method
Place lamb in a non-metallic dish.
Combine lemon juice, salt and pepper, 1 tbs of oregano, garlic and grated onion and pour over lamb.
Cover and refrigerate for at least 2 hours (or overnight) to marinate.
Cook rice according to packet instructions (omit for Low Fuel).
Thread meat onto skewers.
Preheat grill to medium-high heat.
Grill skewers, turning occasionally, until brown on all sides.
Meanwhile, spray a frypan with oil and cook sliced onion and remaining oregano over high heat, stirring occasionally, for 6 minutes or until soft and golden.
Remove from pan.
Quickly heat pita breads on grill until just warmed through, then split in half.
Combine onion mixture and salad ingredients and divide between pita breads.
Top with lamb and tzatziki, and serve with rice.
Athletes with high fuel needs (e.g. endurance athletes, athletes who are growing, athletes aiming to increase muscle mass) require extra carbohydrate-based ingredients and a larger serve size
Athletes with low fuel needs (e.g. skill-based athletes, athletes trying to reduce body fat) need to opt for a smaller serve size
Nutrition
ANALYSIS

High Fuel




4

Low Fuel




6

Energy (kJ)

3015

1505

Protein (g)

53

33

Fat (g)

9

6

Carbohydrate (g)

100

40

Iron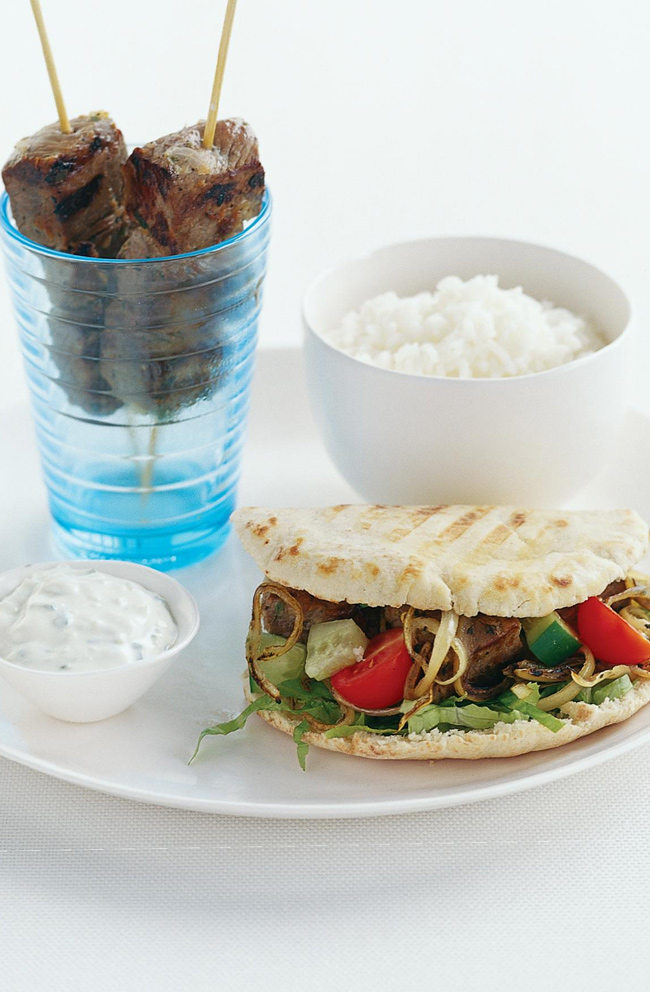 Australian Institute of Sport - From the "Survival Around the World" cookbook
05 Nov 2018
, Sandwiches and Snacks, survival-around-the-world
Sandwiches and Snacks
Return to top