Lamb & pumpkin pilaf
Preparation time

15 minutes

Cooking time

30 minutes

Serves

3-4
Ingredients
Spray of canola or olive oil
400 g lean lamb, cut into thin strips
1 medium onion, finely chopped
2 teaspoons ground coriander
2 teaspoons ground cumin
1½ cups basmati rice
400 g pumpkin, peeled and cut into 1 cm cubes
150 g green beans, cut into 2 cm lengths
625 mL (2½ cups) MAGGI Chicken Stock
Method
Spray a large pan with oil and heat.
Stirfry the meat in two batches.
Transfer to a plate, cover and set aside.
Cook the onion over medium-low heat for about 5 minutes or until very soft and lightly golden.
Add the spices and stir for about 30 seconds or until fragrant.
Add the rice and stir to coat with the onion mixture.
Add the pumpkin, beans and stock and stir until well combined.
Cover with a tight-fitting lid and bring to the boil.
Reduce the heat to very low, and cook for 12 minutes or until the stock is absorbed.
Turn off the heat and stand for 5 minutes or until the rice is tender.
Return the meat to the pan, use a fork to mix through and fluff up the rice.
Serve immediately.
HINT: To check the rice, remove the lid only very briefly so that the moisture needed to cook the rice is not lost
Nutrition
| ANALYSIS per serve | 3 | 4 |
| --- | --- | --- |
| Energy kJ (Cal) | 2570 (614) | 1927 (460) |
| Carbohydrate (g) | 93 | 70 |
| Protein (g) | 41 | 30 |
| Fat (g) | 8 | 6 |
| Iron, Zinc | | |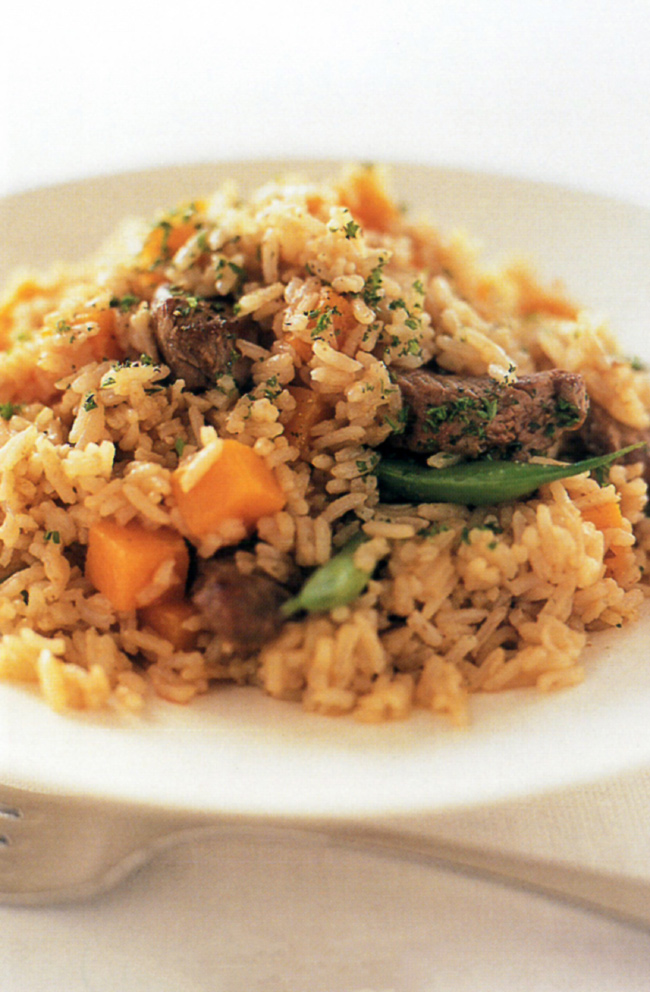 Australian Institute of Sport - From the "Survival for the Fittest" cookbook
05 Nov 2018
HINT: To check the rice, remove the lid only very briefly so that the moisture needed to cook the rice is not lost
, Rice, survival-for-the-fittest
Rice
Return to top