Lamb & noodle salad
Preparation time

10 minutes

Cooking time

10 minutes + 10 minutes standing time

Serves

4
Ingredients
oil for cooking
300g trim lamb fillet
450g fresh thin hokkien noodles
2 cups water, boiling
150g green beans, cut diagonally into 4cm lengths
1 small red onion, cut into thin wedges
1 large carrot, halved lengthways, finely sliced diagonally
3 stalks celery, thinly sliced on the diagonal, leaves reserved
115g baby corn, drained, spears halved lengthways
parsley leaves, to serve
Dressing
¾ CARNATION Light & Creamy Coconut Flavoured Evaporated Milk
2 tbsp crunchy peanut butter
1 tbsp soy sauce
2 tbsp MAGGI Sweet Chilli Sauce
Method
Place all the dressing ingredients in a small non-stick saucepan and stir over low heat until combined and just warmed through. Be sure not to let it boil as the mixture will separate. Set aside.
Heat oil in a medium non-tick frying pan over medium to high heat.
Add lamb and cook for 3 minutes on each side.
Transfer to a plate, cover loosely with foil, set aside for 5 minutes, then cut into thin slices.
Meanwhile, place noodles in large heatproof bowl, cover with boiling water.
Gently separate the strands using a fork and stand for 5 minutes. Drain well.
Place beans in a small heatproof bowl, cover with boiling water, stand for 1 minute.
Drain, rinse under cold water and drain well.
Arrange noodles, vegetables and lamb on serving plates and drizzle with dressing.
Top with parsley and reserved celery tops if desired.
Nutrition
| ANALYSIS per serve | 4 |
| --- | --- |
| Energy kJ (Cal) | 1875 |
| Carbohydrate (g) | 40 |
| Protein (g) | 30 |
| Fat (g) | 20 |
| Saturated fat (g) | 7 |
| Fibre (g) | 8 |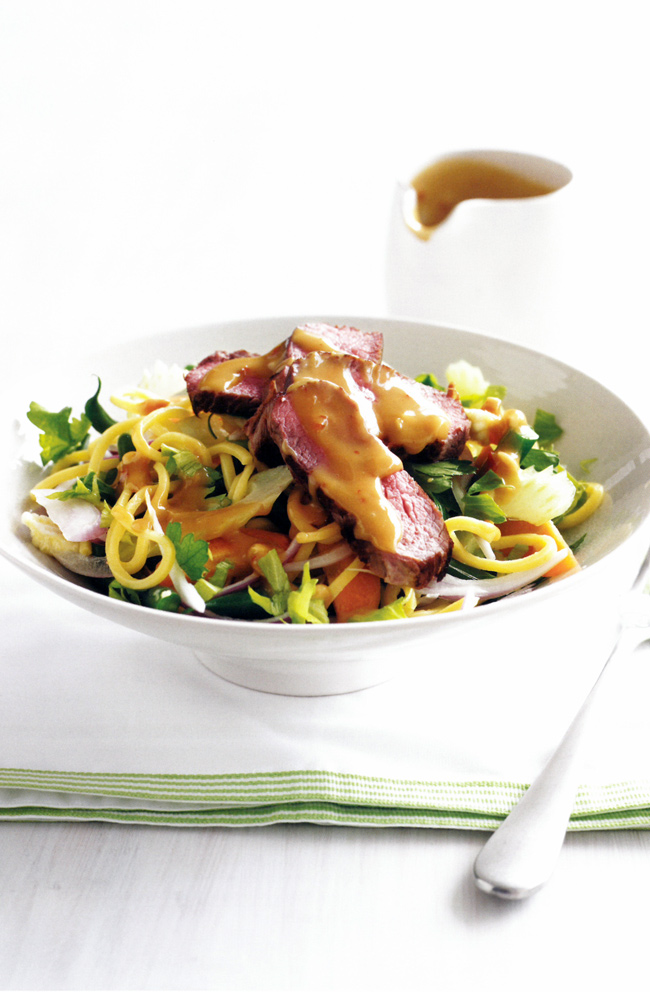 Australian Institute of Sport - From the "Survival for the Active Family" cookbook
05 Nov 2018
, Soups and Salads, survival-for-the-active-family
Soups and Salads
Return to top