Kofta kebabs with tabouli
Ingredients
350g trim lamb mince
1/2 onion, grated
1/2 tsp allspice
1/4 tsp ground cinnamon
1/2 cup cracked wheat (burghul)
Tabouli
1/3 cup cracked wheat
4 cups chopped fresh flat-leaf parsley
1 1/4 cups chopped fresh mint
3 ripe tomatoes, diced
4 green shallots, sliced
juice of 2 lemons
canola or olive oil spray, to grease
250g hummus, to serve
6-12 small Lebanese breads, to serve
Method
Combine lamb, onion and spices in a bowl.
Rinse wheat under cold water and drain well.
Add to meat mixture and mix thoroughly to combine.
Shape mixture into 12 sausage shapes.
Cover and refrigerate for 20 minutes.
Meanwhile, to make tabouli, soak wheat in cold water for 10 minutes, then drain well to remove excess water.
Combine with parsley, mint, tomatoes and green shallots.
Pour lemon juice over salad, toss to combine.
Preheat a lightly oiled barbecue flat plate to medium-high heat.
Cook kebabs, turning occasionally, for 10 minutes or until cooked through.
Serve with hummus and bread.
Athletes with high fuel needs (e.g. endurance athletes, athletes who are growing, athletes aiming to increase muscle mass) require extra carbohydrate-based ingredients and a larger serve size
Athletes with low fuel needs (e.g. skill-based athletes, athletes trying to reduce body fat) need to opt for a smaller serve size
Nutrition
ANALYSIS

High Fuel

4

Low Fuel

6

Energy (kJ)

2926

1414

Protein (g)

40

22

Fat (g)

11

7

Carbohydrate (g)

101

43

Calcium, Iron, Vitamin C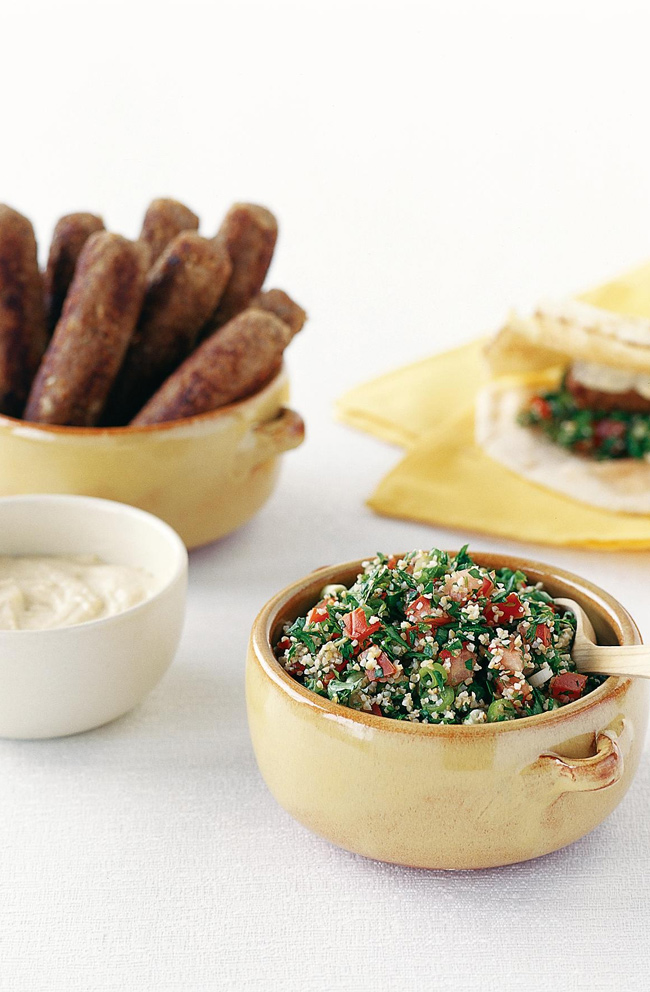 Australian Institute of Sport - From the "Survival Around the World" cookbook
05 Nov 2018
yes, Bakes and Grills, survival-around-the-world
Bakes and Grills
Return to top