Joe's tofu, vegetable & noodle green curry
Preparation time

15 minutes

Cooking time

25 minutes

Serves

4-6

Freezable

yes
Ingredients
500 g dried rice vermicelli
olive or canola oil spray
1-2 tablespoons green curry paste
2 slender eggplants, cut into thick slices
1 zucchini, sliced
350 g firm tofu, cubed
375 ml CARNATION Light and Creamy Evaporated Milk
1 teaspoon coconut essence
1 cup MAGGI All Natural Vegetable Liquid Stock
300 g broccoli, cut into florets
1 cup fresh or frozen peas
200 g can bamboo shoots, drained
1 cup sliced mushrooms
1 tablespoon lime juice
1 tablespoons brown sugar
2 tablespoons fresh coriander leaves, plus extra, to garnish
Method
Cook vermicelli according to packet instructions; drain well.
Spray a nonstick wok or frying pan with oil and heat.
Stirfry curry paste over medium heat for 1-2 minutes until fragrant.
Add eggplant and zucchini and stirfry for 2 minutes.
Add tofu, milk, coconut essence and stock; bring to the boil.
Reduce heat and simmer uncovered, for 10 minutes.
Add remaining ingredients except coriander for garnish.
Cook for 5 minutes until vegetables are tender but still crisp.
Serve curry over vermicelli in bowls, garnished with extra coriander.
Nutrition
| ANALYSIS per serve | 4 | 6 |
| --- | --- | --- |
| Energy kJ (Cal) | 2171 (519) | 1448 (346) |
| Carbohydrate (g) | 75 | 50 |
| Protein (g) | 32 | 21 |
| Fat (g) | 10 | 7 |
| Calcium, Fibre, Iron, Vitamin C, Zinc | | |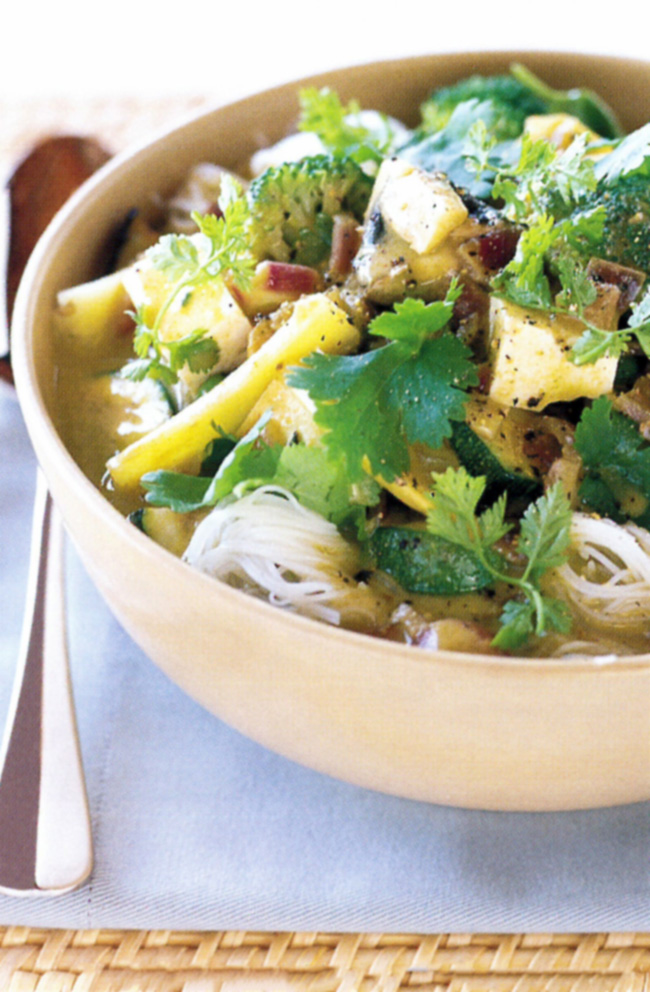 Australian Institute of Sport - From the "Survival from the Fittest" cookbook
05 Nov 2018
yes, Spice, survival-from-the-fittest
Spice
Return to top