Jim's blueberry hotcakes
Preparation time

10 minutes

Cooking time

20 minutes

Serves

4-6

Freezable

yes
Ingredients
200 g PETERS FARM No Fat Natural Yoghurt
2 tablespoons honey
½ teaspoon ground cinnamon
2 cups self-raising flour
1 teaspoon baking powder
2 tablespoons caster sugar
1½ cups CARNATION Light and Creamy Evaporated Milk
2 eggs
2 teaspoons vanilla essence
300 g fresh or frozen blueberries
olive or canola oil spray
Method
Place yoghurt, honey and cinnamon in a small bowl, stir until combined.
To make the hotcakes, sift flour and baking powder into a large bowl, stir in sugar and make a well in the centre.
In another bowl, whisk together milk, eggs and vanilla and add to dry ingredients.
Whisk until just combined - the mixture may be slightly lumpy, but don't over beat or the hotcakes will be tough.
Gently stir in blueberries.
Spray a nonstick frying pan with oil and place over medium heat.
Put ½ cup of batter into the pan, and cook for about 1½ minutes until bubbles appear on the surface.
Turn over and cook a further 1 minute or until lightly golden underneath.
Serve hotcakes with a dollop of yoghurt mixture.
HINT: Replace the blueberries with any other type of berry, or chopped banana, if you like. Or serve with plain yoghurt and a drizzle of maple syrup
Nutrition
| ANALYSIS per serve | 4 | 6 |
| --- | --- | --- |
| Energy kJ (Cal) | 1908 (456) | 1272 (304) |
| Carbohydrate (g) | 87 | 58 |
| Protein (g) | 17 | 11 |
| Fat (g) | 4 | 3 |
| Calcium | | |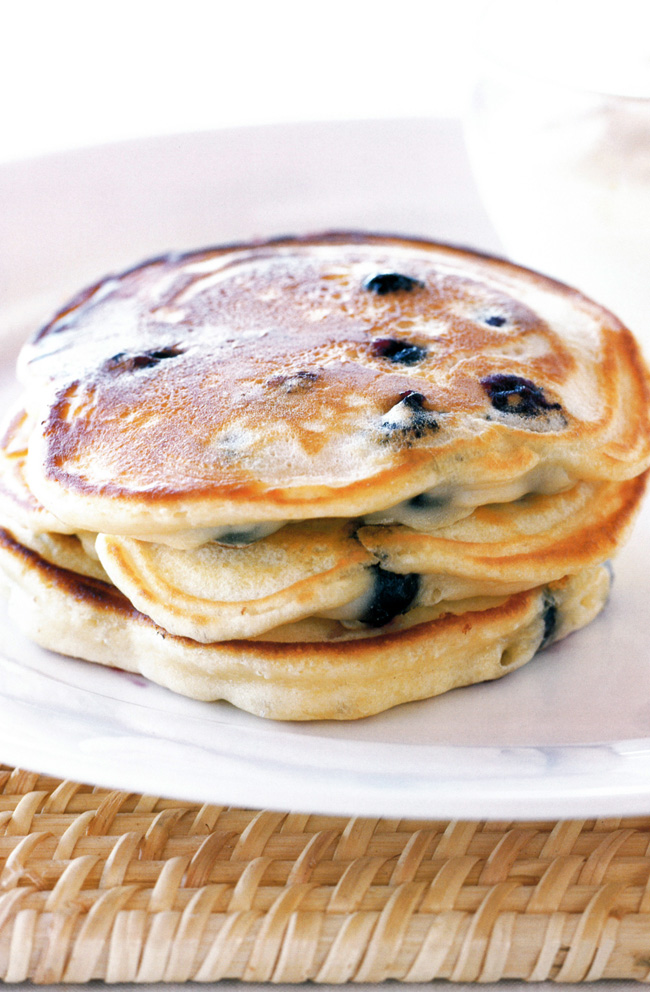 Australian Institute of Sport - From the "Survival from the Fittest" cookbook
05 Nov 2018
HINT: Replace the blueberries with any other type of berry, or chopped banana, if you like. Or serve with plain yoghurt and a drizzle of maple syrup
yes, Treats, survival-from-the-fittest
Treats
Return to top