Japanese beef & vegetables on rice
Preparation time

20 minutes

Cooking time

25 minutes

Serves

4-6

Freezable

yes
Ingredients
2 cups MAGGI All Natural Chicken or Beef Liquid Stock
1/3 cup reduced-salt soy sauce
3 tablespoons mirin (Japanese sweet rice wine)
2 tablespoons sugar
500 g rump steak, thinly sliced across grain
4 spring onions, sliced
300 g broccoli, cut into florets
200 g snow peas
1 cup fresh or frozen peas
1 red capsicum, sliced
3 eggs, lightly beaten
6 cups cooked Japanese rice or soba noodles
extra spring onions, to garnish
Method
Place stock, soy, mirin and sugar in large deep saucepan and bring to the boil, reduce heat and simmer for 5 minutes.
Add beef and simmer, uncovered, for 5 minutes.
Add vegetables and simmer for 3 minutes or until tender.
Pour in the eggs in a thin steady stream and allow to spread in the pan; do not stir.
Cover and cook over medium heat for 5 minutes until the egg is set.
Serve rice in bowls topped with the beef mixture and sprinkled with extra spring onion.
HINT: This recipe is also delicious using pork, chicken or lamb. Vegetarians can opt for just vegetables or use sliced, firm tofu
Nutrition
| ANALYSIS per serve | 4 | 6 |
| --- | --- | --- |
| Energy kJ (Cal) | 2847 (680) | 1898 (453) |
| Carbohydrate (g) | 90 | 60 |
| Protein (g) | 50 | 33 |
| Fat (g) | 11 | 8 |
| Iron, Vitamin C, Zinc | | |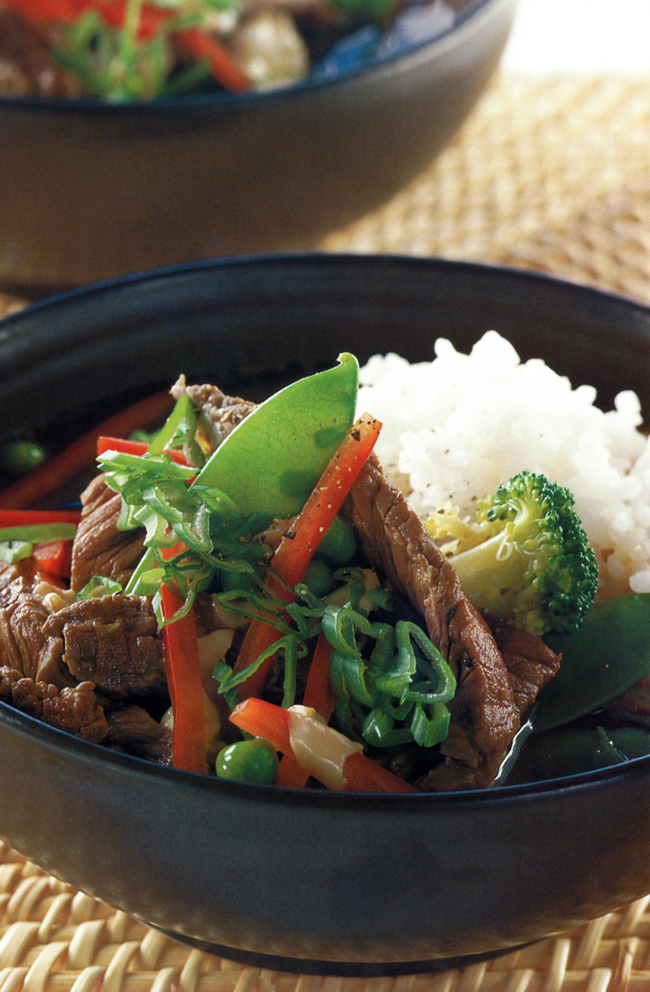 Australian Institute of Sport - From the "Survival from the Fittest" cookbook
05 Nov 2018
HINT: This recipe is also delicious using pork, chicken or lamb. Vegetarians can opt for just vegetables or use sliced, firm tofu
yes, Rice, survival-from-the-fittest
Rice
Return to top