Italian mince
Preparation time

10 minutes

Cooking time

25 minutes

Serves

6
Ingredients
oil for cooking
1 brown onion, finely chopped
2 garlic cloves, crushed
500g lean beef mince
100g button mushrooms, chopped
2 tbsp tomato paste
800g tin chopped tomatoes
1 small red capsicum, chopped
1 small green capsicum, chopped
1 small zucchini, grated
1 small carrot, grated
2 tbsp oregano, chopped
2 tbsp baby basil leaves
pasta, to serve
parmesan, to serve
crusty bread, to serve
Method
Heat oil in a large non-stick frying pan over medium to high heat. Add onion and cook for 2 minutes or until soft. Add garlic and cook for a further minute.
Add the mince and cook for 5 minutes or until lightly golden, breaking up any lumps with a wooden spoon.
Add the mushrooms and tomato paste, then add the tomatoes and vegetables, stir to combine and simmer over low heat for 20 minutes or until vegetables are tender. Stir through oregano. Divide between serving bowls and top with basil leaves and shaved parmesan. Serve with crusty Italian bread.
HINT: Can be used for a range of recipes like spaghetti bolognese, pasta bake, lasagne, topping for potatoes. When time is short, use MAGGI Italian Mince flavour sachet
Nutrition
| ANALYSIS per serve | 6 |
| --- | --- |
| Energy kJ (Cal) | 889 |
| Carbohydrate (g) | 8 |
| Protein (g) | 26 |
| Fat (g) | 7 |
| Saturated fat (g) | 3 |
| Fibre (g) | 4 |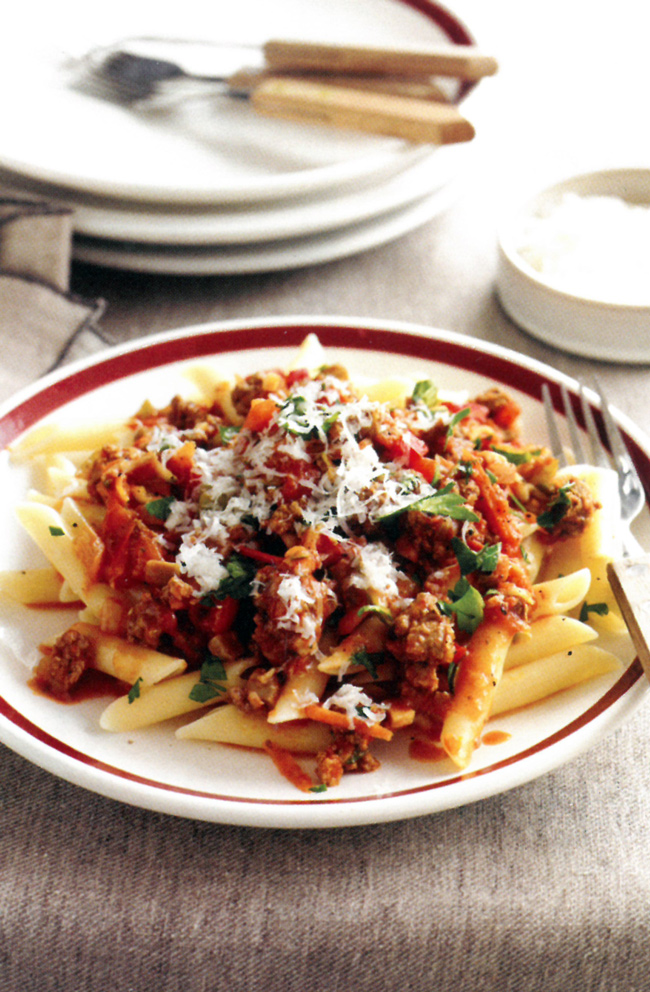 Australian Institute of Sport - From the "Survival for the Active Family" cookbook
05 Nov 2018
HINT: Can be used for a range of recipes like spaghetti bolognese, pasta bake, lasagne, topping for potatoes. When time is short, use MAGGI Italian Mince flavour sachet
, Pasta, survival-for-the-active-family
Pasta
Return to top