Hot banana splits
Preparation time

5 minutes

Cooking time

10 minutes

Serves

4
Ingredients
4 bananas
8 tablespoons NESTLE Choc Bits, Dark Chocolate
8 teaspoons crushed peanuts
4 scoops PETERS Light and Creamy Vanilla Ice Cream
Method
Preheat oven to 190°C (375°F).
Cut bananas in half and place 4 halves on a sheet of aluminium foil.
Sprinkle 2 tablespoons choc bits over surface of each half.
Top with remaining banana half and wrap in foil.
Place foil parcels on a baking tray.
Bake for 10 minutes until chocolate is soft and bananas heated through.
Remove from foil and sprinkle each banana with 2 teaspoons crushed peanuts.
Serve with a scoop of ice cream.
Nutrition
| ANALYSIS per serve | 4 |
| --- | --- |
| Energy kJ (Cal) | 1234 (295) |
| Carbohydrate (g) | 45 |
| Protein (g) | 6 |
| Fat (g) | 11 |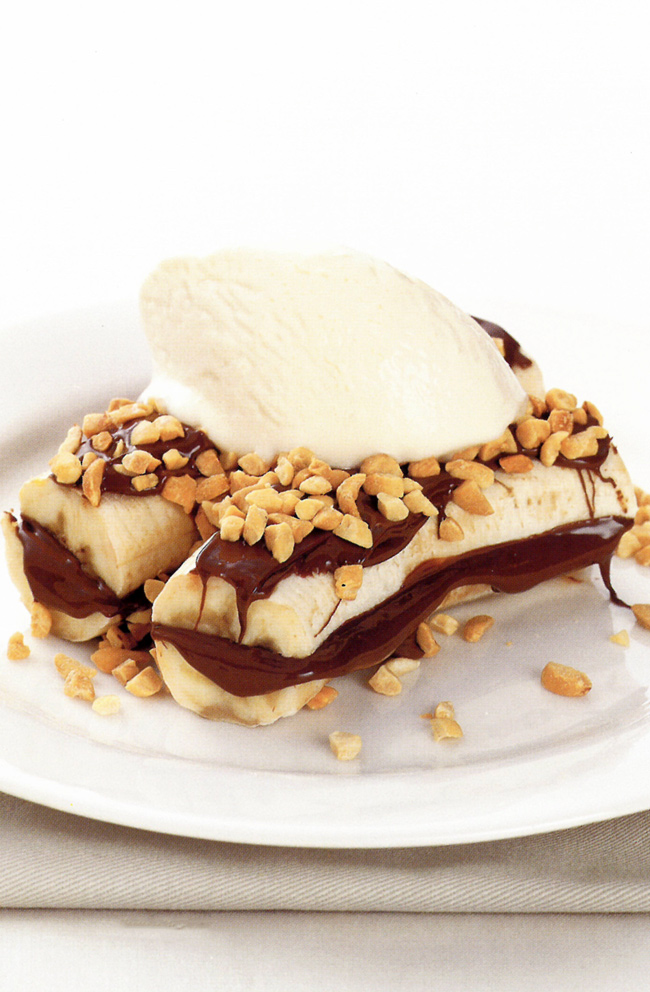 Australian Institute of Sport - From the "Survival from the Fittest" cookbook
05 Nov 2018
no, Treats, survival-from-the-fittest
Treats
Return to top