Homemade toasted muesli
Preparation time

5 minutes

Cooking time

25 minutes

Makes

12 serves
Ingredients
1/4 cup apple or orange juice
1/2 cup honey (warmed)
1/4 cup maple syrup
1 tsp vanilla essence
2 tsp cinnamon
6 cups UNCLE TOBYS Traditional Oats
2/3 cup slivered almonds
1 cup pumpkin seeds
1 cup of your favourite dried fruit, e.g. sultanas, dates
Method
Preheat oven to 170°C.
Combine juice, honey, maple syrup, vanilla and cinnamon in a small jug.
Combine UNCLE TOBYS Traditional Oats, almonds and pumpkin seeds in a large bowl.
Add honey mixture to the oat mixture and stir to combine. Try to ensure that oats are evenly coated.
Spread muesli over 2 baking trays and bake for 25 minutes or until lightly browned, stir occasionally to prevent mixture from sticking to the baking tray.
Remove muesli from the oven and allow to cool.
Add your favourite dried fruit and stir evenly through the muesli. Store in an airtight container.
Nutrition
| ANALYSIS per serve | 12 |
| --- | --- |
| Energy kJ (Cal) | 1605 |
| Carbohydrate (g) | 56 |
| Protein (g) | 10 |
| Fat (g) | 12 |
| Saturated fat (g) | 2 |
| Fibre (g) | 6 |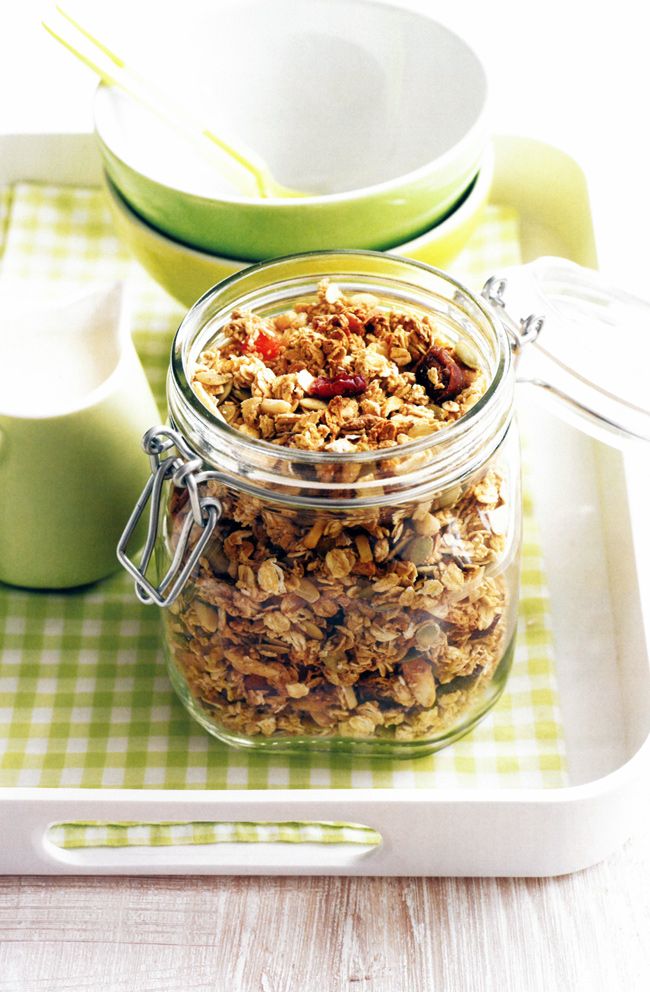 Australian Institute of Sport - From the "Survival for the Active Family" cookbook
05 Nov 2018
, Treats, survival-for-the-active-family
Treats
Return to top