Hamburgers
Preparation time

20 minutes

Cooking time

10 minutes

Serves

4
Ingredients
500 g premium lean beef mince
1 egg, lightly beaten
1 cup fresh breadcrumbs
1 teaspoon dried mixed herbs
freshly ground black pepper, to taste
4 hamburger rolls, split in half
1 small carrot
4 large lettuce leaves, halved
8 slices beetroot
8 slices tomato
mustard or tomato sauce, to serve
Method
Place the mince, egg, breadcrumbs and herbs into a bowl.
Add pepper to taste.
Using your hands, mix until well combined, divide into four equal portions and shape each into a patty.
Cook patties in a nonstick frying pan or on a barbecue grill plate, or under a grill.
Peel strips from the carrot with a peeler.
Place some lettuce on the bottom half of the buns.
Top with meat patties, then the beetroot, tomato, carrot and more lettuce.
Add mustard or tomato sauce and put on the tops of the buns.
Serve immediately.
HINT: Serve with a baked potato to boost the carbohydrate level. Wholemeal bread rolls will provide extra fibre
Nutrition
| ANALYSIS per serve | 4 |
| --- | --- |
| Energy kJ (Cal) | 2216 (529) |
| Carbohydrate (g) | 65 |
| Protein (g) | 46 |
| Fat (g) | 11 |
| Iron, Zinc | |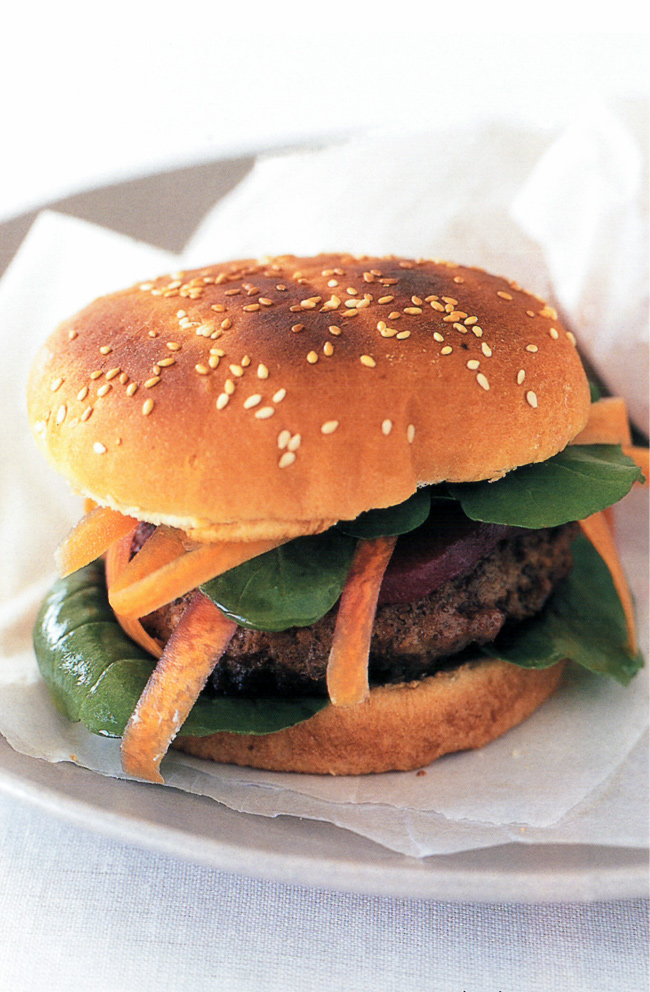 Australian Institute of Sport - From the "Survival for the Fittest" cookbook
05 Nov 2018
HINT: Serve with a baked potato to boost the carbohydrate level. Wholemeal bread rolls will provide extra fibre
, Bakes and Grills, survival-for-the-fittest
Bakes and Grills
Return to top