Ingredients
Olive or canola oil spray
1 leek (white part only), sliced
1 tsp minced garlic
2 sticks celery, sliced
200g chopped ham
1 1/2-2 cups arborio rice
875ml-1 litre MAGGI Real Chicken Stock
200-375ml CARNATION Light & Creamy Evaporated Milk
3 small zucchini, sliced
1 cup frozen peas
2 tbs chopped fresh parsley
1/3 cup grated parmesan cheese
freshly ground black pepper
Method
Spray a non-stick saucepan with oil and cook leek, garlic, celery and ham over medium heat for 3-5 minutes or until leek is soft.
Add rice and cook, stirring, for 1 minute or until rice is coated.
Add stock and milk and bring to the boil.
Simmer, stirring occasionally, for 20 minutes or until the rice is soft.
Add zucchini and peas and cook for a further 5 minutes.
Remove from heat and stir through parsley, cheese and pepper.
Athletes with high fuel needs (e.g. endurance athletes, athletes who are growing, athletes aiming to increase muscle mass) require extra carbohydrate-based ingredients and a larger serve size
Athletes with low fuel needs (e.g. skill-based athletes, athletes trying to reduce body fat) need to opt for a smaller serve size
Nutrition
ANALYSIS

High Fuel




4

Low Fuel




6

Energy (kJ)

2639

1428

Protein (g)

34

20

Fat (g)

9

6

Carbohydrate (g)

100

50

Calcium, Iron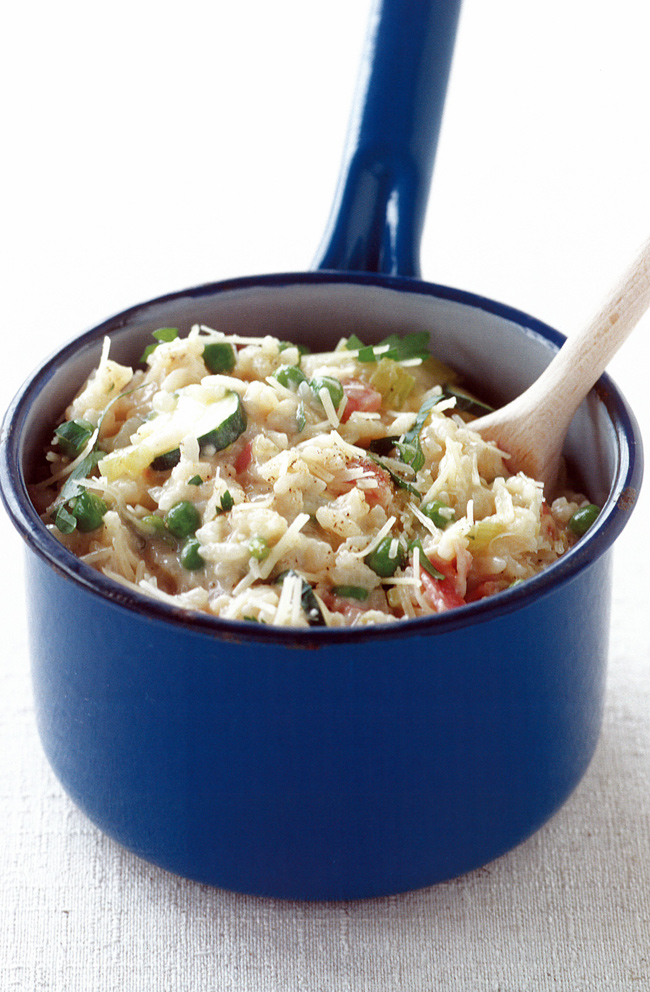 Australian Institute of Sport - From the "Survival Around the World" cookbook
05 Nov 2018
, Rice, survival-around-the-world
Rice
Return to top