Haimo's smoked salmon & pikelet salad
Ingredients
1 cup self-raising flour
2 eggs
1/2 cup skim milk
1/2 cup chopped fresh coriander
400g can corn kernels, rinsed and drained
olive or canola oil spray
150g baby spinach
300g smoked salmon, cut into strips
1 red onion, thinly sliced
1 avocado, sliced
200g cherry tomatoes, halved
200g PETERS FARM Natural No Fat Set Yogurt
2 tbs snipped fresh chives or chopped dill
Method
Preheat oven to 180°C (350°F).
Line a baking tray with non-stick paper.
Sift flour into a bowl.
Whisk eggs and milk together and pour into dry ingredients, whisk to a smooth batter.
Fold in coriander and corn.
Lightly spray a large non-stick frypan with oil.
To cook 4 pikelets at a time, drop 11/2 tablespoonfuls of mixture into pan for each, allowing room for spreading.
Cook over medium heat for 3 minutes each side.
Transfer to a baking tray and repeat with remaining mixture.
Bake pikelets in oven for 10 minutes or until risen.
Serve pikelets on a bed of spinach, and top with salmon, onion, avocado and tomatoes.
Add a dollop of yogurt and sprinkle with chives or dill.
Athletes with high fuel needs (e.g. endurance athletes, athletes who are growing, athletes aiming to increase muscle mass) require extra carbohydrate-based ingredients and a larger serve size
Athletes with low fuel needs (e.g. skill-based athletes, athletes trying to reduce body fat) need to opt for a smaller serve size
Use a non-stick pan on a low to medium heat — if it is too hot, the mixture will brown too quickly and the centre of the pikelet will remained uncooked
Nutrition
ANALYSIS

High Fuel




4

Low Fuel




6

Energy (kJ)
2245

1497

Protein (g)

34

23

Fat (g)

21

14

Carbohydrate (g)

50

33

Calcium, Iron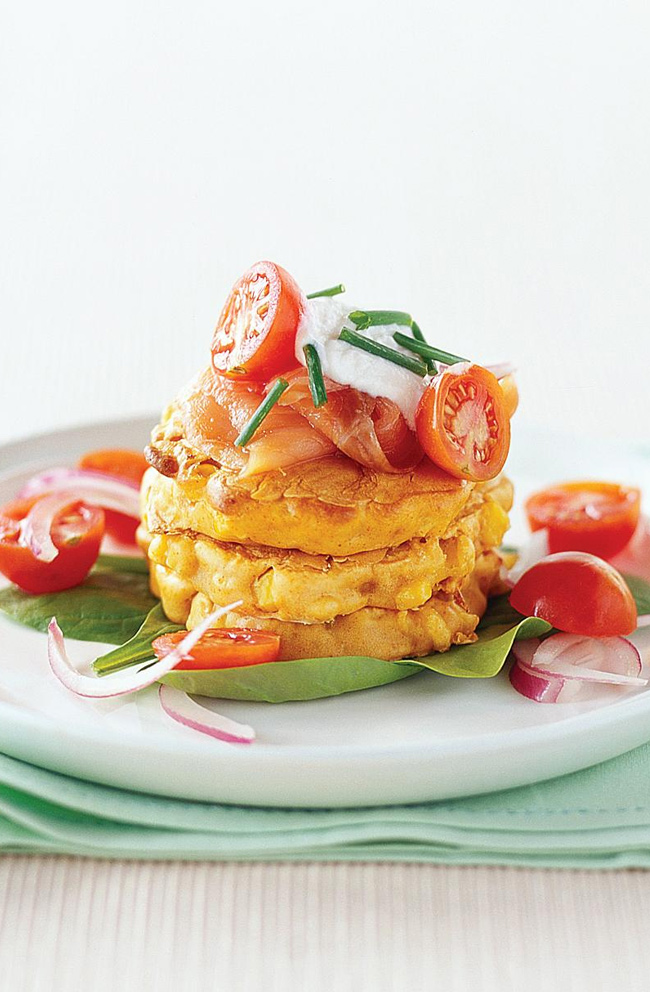 Australian Institute of Sport - From the "Survival Around the World" cookbook
05 Nov 2018
Use a non-stick pan on a low to medium heat — if it is too hot, the mixture will brown too quickly and the centre of the pikelet will remained uncooked
yes, Soups and Salads, survival-around-the-world
Soups and Salads
Return to top