Ingredients
4 large burrito flour tortillas
1 eggwhite, lightly beaten
caster sugar, to sprinkle, plus 2 tsp extra ground cinnamon, to sprinkle
250g strawberries, hulled and chopped
2 fresh mangoes, flesh chopped (or 1 x 400g can chopped mango slices if unavailable)
2 kiwifruit, peeled and chopped
pulp of 4 passionfruit (or 170g can passionfruit in syrup if unavailable)
4 scoops PETERS Light & Creamy Ice-cream
Method
Preheat oven to 180°C (350°F).
Heat tortillas in microwave on HIGH for 30-60 seconds or until warm and flexible, then brush one side of each with eggwhite and sprinkle with sugar and cinnamon.
Cut in half.
Fold each half into a cone shape, sprinkled-side folded inwards.
Stand in a muffin pan, wide-side down, and bake in oven for 7-10 minutes or until brown.
Leave to cool in pan.
Meanwhile, combine strawberries, mangoes, kiwifruit and half the passionfruit pulp in a bowl to make a fruit salsa.
Sprinkle with a little cinnamon.
Combine remaining passionfruit pulp with a little water and extra 2 teaspoons sugar. (If using passionfruit in syrup, use straight from can – do not add water and sugar).
Spoon salsa into cones and lay on a plate.
Pour passionfruit mixture over the top.
Serve with ice-cream.
Nutrition
| ANALYSIS | 4 |
| --- | --- |
| Energy (kJ) | 1034 |
| Protein (g) | 8 |
| Fat (g) | 2 |
| Carbohydrate (g) | 43 |
| Vitamin C | |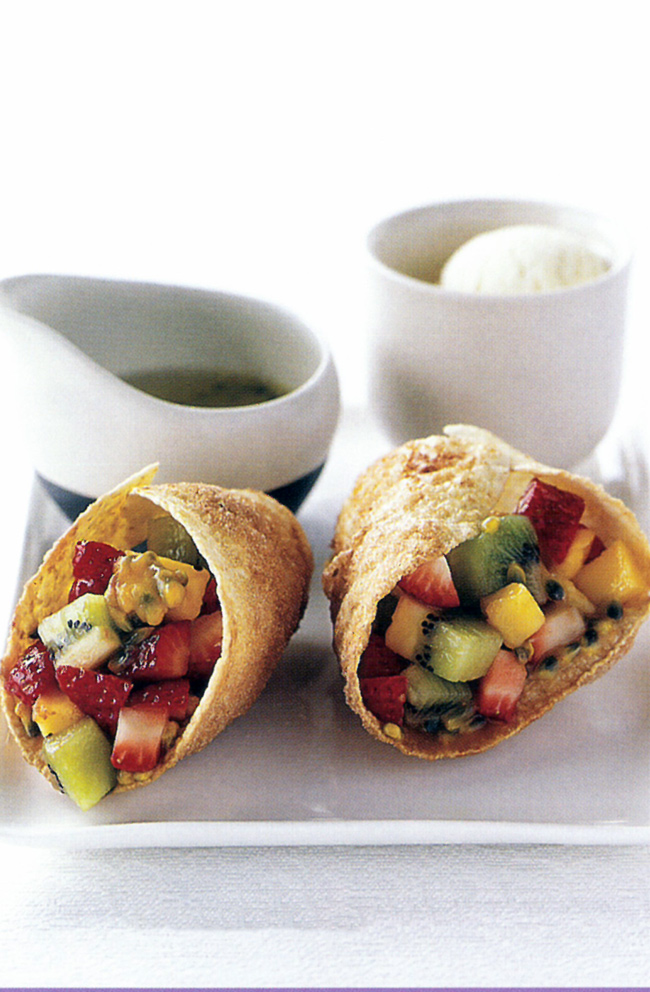 Australian Institute of Sport - From the "Survival Around the World" cookbook
05 Nov 2018
, Sandwiches and Snacks, survival-around-the-world
Sandwiches and Snacks
Return to top