Fruit loaf with ricotta, cinnamon & syrup
Preparation time

10 minutes + 10 minutes kneading time

Cooking time

45 minutes + 2 hours standing time

Serves

15
Ingredients
Fruit loaf
4 cups white breadmaking flour
1½ cups wholemeal self-raising flour
2 tbsp skim milk powder
3 tsp dried yeast
1½ cups mixed nuts (e.g. almonds, cashews, walnuts), roughly chopped
1½ cups dried fruit (e.g. sultanas, dates. apricots, mixed dried fruit), roughly chopped
2 tbsp brown sugar
2 tbsp vegetable oil
1½ cups water, warm
1 tbsp honey, warmed (optional)
Method
Place flours, skim milk powder, yeast, mixed nuts, dried fruit and brown sugar in the bowl of an electric mixer. Place vegetable oil and water in a jug. Using a dough hook begin mixing the dry ingredients together and then slowly pour in the liquid. Continue mixing on a low speed until all the ingredients come together. Increase the speed to medium low and continue mixing for 10 minutes or until dough is satin-like. If you don't have an electric mixer, bring the ingredients together in a large mixing bowl and then turn out onto a lightly floured surface and knead for 10 minutes.
Place dough in a large, lightly oiled, bowl. Cover with plastic wrap and sit in a warm place for 1 hour or until dough has doubled in size.
Meanwhile, preheat oven to 220°C. Grease a 11 x 26cm loaf tin and set aside. Knock dough down and knead lightly. Shape into a log and place in the loaf tin. Cover with oiled plastic wrap and once again sit in a warm place for a further hour until dough has once again doubled in size.
Bake fruit loaf for 40-45 minutes or until dark golden in colour and loaf sounds hollow when the bottom is tapped. Brush with the warmed honey, if desired, and allow to cool 10 minutes in the tin before turning out.
Alternatively
Place all ingredients into a breadmaker at the same time, starting with the water at the bottom.
Set the breadmaker to the standard breadmaking cycle.
Ricotta, cinnamon & syrup topping:
1½ cups low-fat ricotta cheese
2 tsp cinnamon
1 tbsp golden syrup
Combine topping ingredients in bowl and mix thoroughly.
Spread topping over a slice of fruit bread.
HINT: Use purchased fruit bread if you don't want to make your own.
Nutrition
| ANALYSIS per serve | 15 |
| --- | --- |
| Energy kJ (Cal) | 1623 |
| Carbohydrate (g) | 51 |
| Protein (g) | 12 |
| Fat (g) | 14 |
| Saturated fat (g) | 3 |
| Fibre (g) | 5 |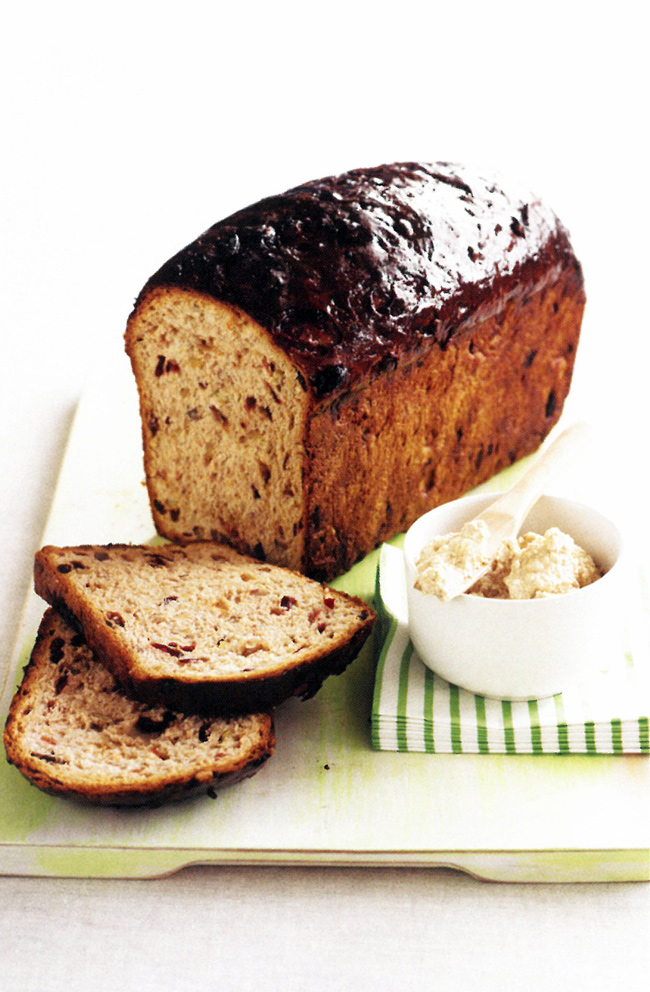 Australian Institute of Sport - From the "Survival for the Active Family" cookbook
05 Nov 2018
HINT: Use purchased fruit bread if you don't want to make your own.
, Treats, survival-for-the-active-family
Treats
Return to top