French crepes with berries
Ingredients
150g blueberries
150g strawberries, hulled and halved
4 tbs caster sugar
1 vanilla bean, split lengthways or 1 tsp vanilla essence
2 tsp cornflour
70g plain flour
20g butter or canola margarine, melted
1 tsp lemon zest
2 eggs
3/4 cup skim milk
olive or canola oil spray
4-6 scoops PETERS Light & Creamy Vanilla Ice-cream (optional)
Method
Heat berries, 3 tablespoons sugar, vanilla bean/essence and 300ml water in a saucepan over low heat for 5 minutes or until sugar dissolves.
Mix cornflour with 1 tablespoon water and stir into berry mixture.
Simmer, stirring constantly, for 2 minutes or until sauce thickens, then cover and remove from heat.
Sift flour into a bowl, then stir in remaining sugar and make a well in the centre.
Combine butter/margarine, lemon zest, eggs and milk in a small jug.
Whisk into dry ingredients and stir until mixture resembles a smooth batter.
Lightly spray a small non-stick frypan with oil, add 2-3 tablespoons of batter to pan and tilt pan so it covers the base.
Cook over medium heat for 2 minutes or until golden underneath.
Flip and cook the other side until golden.
Remove from pan and transfer to a low oven to keep warm while you cook remaining crepes.
Serve with sauce and a scoop of ice-cream, if desired.
Athletes with high fuel needs (e.g. endurance athletes, athletes who are growing, athletes aiming to increase muscle mass) require extra carbohydrate-based ingredients and a larger serve size
Athletes with low fuel needs (e.g. skill-based athletes, athletes trying to reduce body fat) need to opt for a smaller serve size
Nutrition
ANALYSIS

High Fuel




4

Low Fuel




6

Energy (kJ)

1302

869

Protein (g)

10

7

Fat (g)

9

6

Carbohydrate (g)

48

32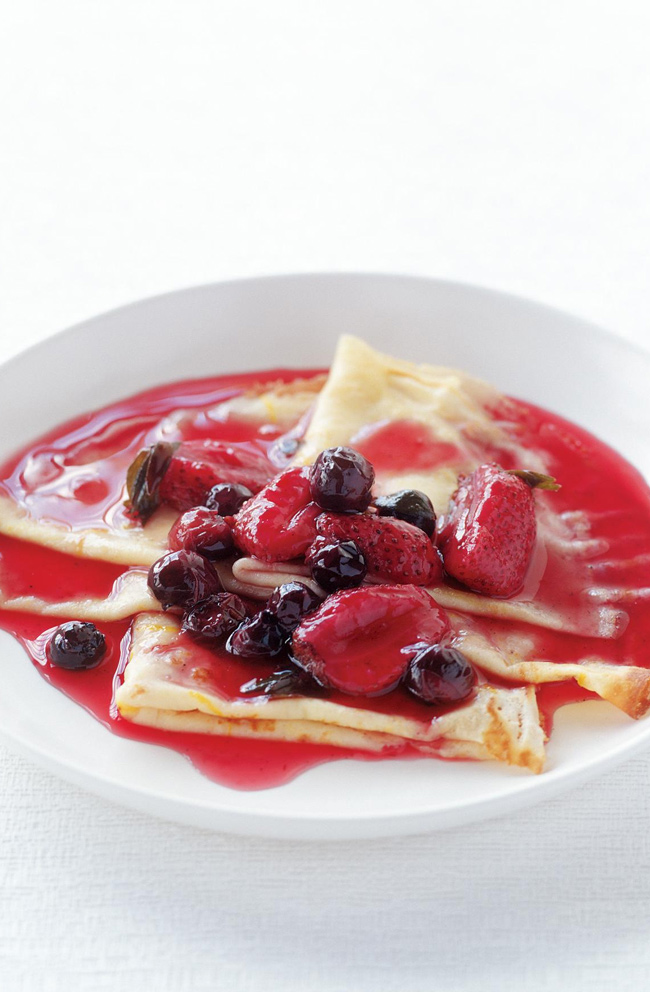 Australian Institute of Sport - From the "Survival Around the World" cookbook
05 Nov 2018
yes, Treats, survival-around-the-world
Treats
Return to top