Fish pie
Preparation time

20 minutes

Cooking time

45 minutes + 5 minutes standing time

Serves

4
Ingredients
4–6 medium potatoes, peeled and chopped
1 tbsp butter
¼ cup milk
2¼ cup reduced-fat milk
1 bay leaf
6 peppercorns
300g white fish (flathead fillets, whiting fillets, pink ling)
300g skinless salmon fillet
oil for cooking
1 leek, sliced
1 clove garlic, crushed
2 tbsp plain flour
3 hard-boiled eggs, quartered
1 cup frozen peas
1 tbsp lemon juice
¼ cup grated reduced-fat cheese
MAGGI Sweet Chill Sauce, to serve
Method
Preheat oven to 180°C.
Boil potatoes until tender. Drain well. Add butter and milk and mash. Set aside.
Place milk, bay leaf and peppercorns in a wok and bring to a simmer over low heat. Add fish and salmon and poach for 10 minutes or until fish is cooked and flakes easily.
Remove fish from pan and set aside for 5 minutes or until slightly cooled. Flake fish, making sure to remove any bones. Place into a large bowl and refrigerate until required.
Remove bay leaf and peppercorns from milk. And set aside
Heat oil in a medium non-stick frying pan. Add leek and garlic and cook until soft.
Top with flour and cook, stirring for 1 minute
Add remaining milk and mix well, simmer until thickened.
Add flaked fish, eggs, peas and lemon juice and gently combine.
Transfer mixture to 4-cup capacity baking dish. Top with mashed potato and cheese.
Bake 20 minutes or until golden on top. Serve with MAGGI Sweet Chill Sauce, if desired.
HINT: Fresh fish can be replaced with tinned tuna or salmon.
Nutrition
| ANALYSIS per serve | 4 |
| --- | --- |
| Energy kJ (Cal) | 2131 |
| Carbohydrate (g) | 47 |
| Protein (g) | 45 |
| Fat (g) | 114 |
| Saturated fat (g) | 6 |
| Fibre (g) | 7 |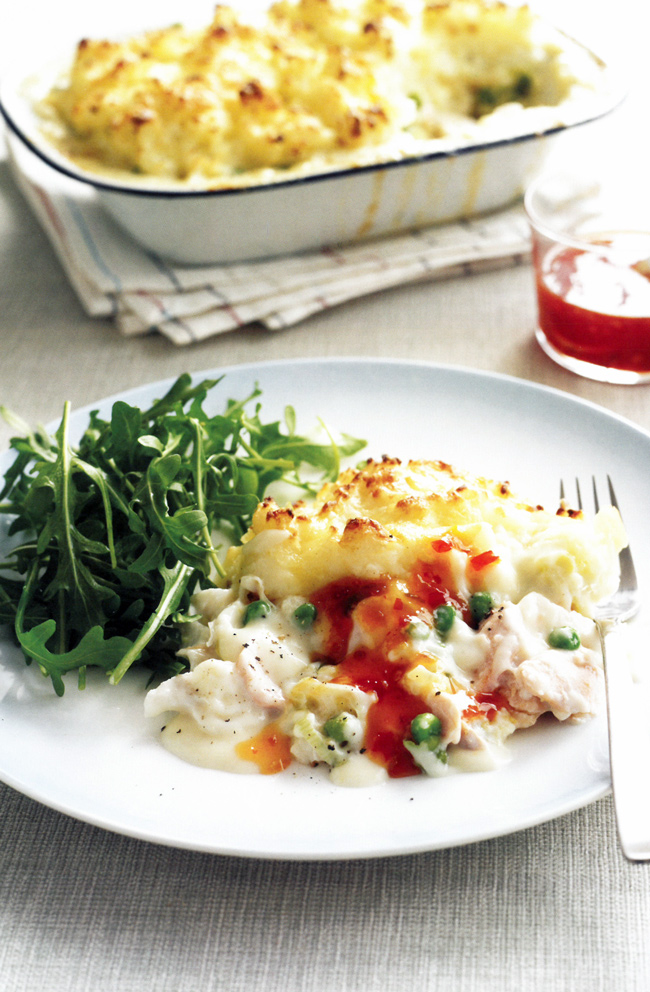 Australian Institute of Sport - From the "Survival for the Active Family" cookbook
05 Nov 2018
HINT: Fresh fish can be replaced with tinned tuna or salmon.
no, Bakes and Grills, survival-for-the-active-family
Bakes and Grills
Return to top