Fish in foil
Preparation time

20 minutes

Cooking time

20 minutes

Serves

4
Ingredients
4 x 150 g salmon fillets, skin removed
4 thin slices ginger
1 stalk lemongrass, finely sliced
3 spring onions, sliced
1 red capsicum, thinly sliced
1 carrot, cut into thin strips
1 teaspoon sesame oil
3 tablespoons lime juice
2 tablespoons MAGGI Authentic Thai Sweet Chilli Sauce
1 tablespoon MAGGI Fish Sauce
500 g baby bok choy, halved
fresh coriander leaves, to serve
Method
Cut four x 30-cm squares of aluminium foil.
Place fish on the centre of the foil, top with ginger and lemongrass and finely sliced vegetables.
Place sesame oil, lime juice, chilli sauce and fish sauce in a jug and whisk to combine.
Fold up the edges of the foil so none of the liquid can flow away and then carefully pour the sauce over the fish.
Loosely seal the fish in foil, then place in a large bamboo steamer over a wok of simmering water (making sure the base of the steamer does not come into contact with the water).
Cover the steamer and cook fish in foil for 10-15 minutes or until nearly cooked through.
Place the bok choy in a separate steamer on top of the fish and cook,covered, for 5 minutes or until tender.
Serve the fish parcels on top of the steamed bok choy, garnished with coriander.
Serve with steamed jasmine rice.
HINT: If you don't have a wok and steamer, these parcels can be cooked in the microwave but ues baking paper in place of the foil. They can also be cooked on a baking tray in a preheated 180°C (350°F) oven for 10-15 minutes or until tender
Nutrition
| ANALYSIS per serve | 4 |
| --- | --- |
| Energy kJ (Cal) | 3098 (740) |
| Carbohydrate (g) | 112 |
| Protein (g) | 41 |
| Fat (g) | 13 |
| Iron, Vitamin C, Zinc | |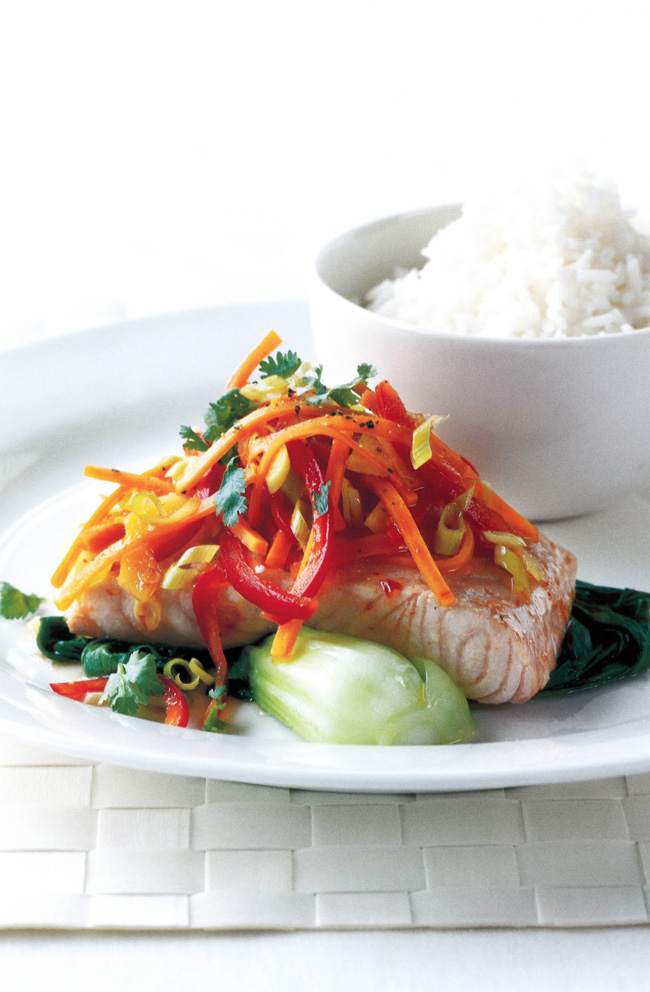 Australian Institute of Sport - From the "Survival from the Fittest" cookbook
05 Nov 2018
HINT: If you don't have a wok and steamer, these parcels can be cooked in the microwave but ues baking paper in place of the foil. They can also be cooked on a baking tray in a preheated 180°C (350°F) oven for 10-15 minutes or until tender
no, Bakes and Grills, survival-from-the-fittest
Bakes and Grills
Return to top