Fish curry
Preparation time

10 minutes

Cooking time

10 minutes

Serves

4-6
Ingredients
2 cups white long-grain or basmati rice
600 g firm boneless fish fillets
spray canola or olive oil
1/3 cup curry paste (such as balti or tikka masala)
575 g jar tomato-based pasta sauce
125 mL (½ cup) water
500 g frozen stirfry vegetable medley (optional)
125 mL (½ cup) low-fat natural yogurt
2 tablespoons finely chopped fresh coriander leaves
Method
Cook the rice in a large pan of boiling water for 12 minutes or until tender.
Cut the fish into large bite-size pieces.
Spray a nonstick wok or large frying pan with oil and heat, add the curry paste and stirfry over medium heat for 1 minute.
Stir in the pasta sauce and water and bring to the boil.
Add the fish pieces (and vegetables if desired), reduce the heat slightly and simmer for about 5 minutes or until the fish is cooked (test by flaking the flesh with a fork).
Push the fish to one side of the pan and stir the yogurt and coriander into the sauce, then gently stir in the fish to coat. (Stirring the fish too much could cause it to fall apart.) Don't let the sauce boil again after adding the yogurt.
Serve with long-grain or basmati rice.
HINT: Ling, ocean perch or jewfish are suitable types of fish for this recipe. The optional vegetables will make this meal complete
Nutrition
| ANALYSIS per serve | 4 | 6 |
| --- | --- | --- |
| Energy kJ (Cal) | 2658 (635) | 1772 (423) |
| Carbohydrate (g) | 97 | 65 |
| Protein (g) | 42 | 28 |
| Fat (g) | 8 | 5 |
| Iron, Zinc | | |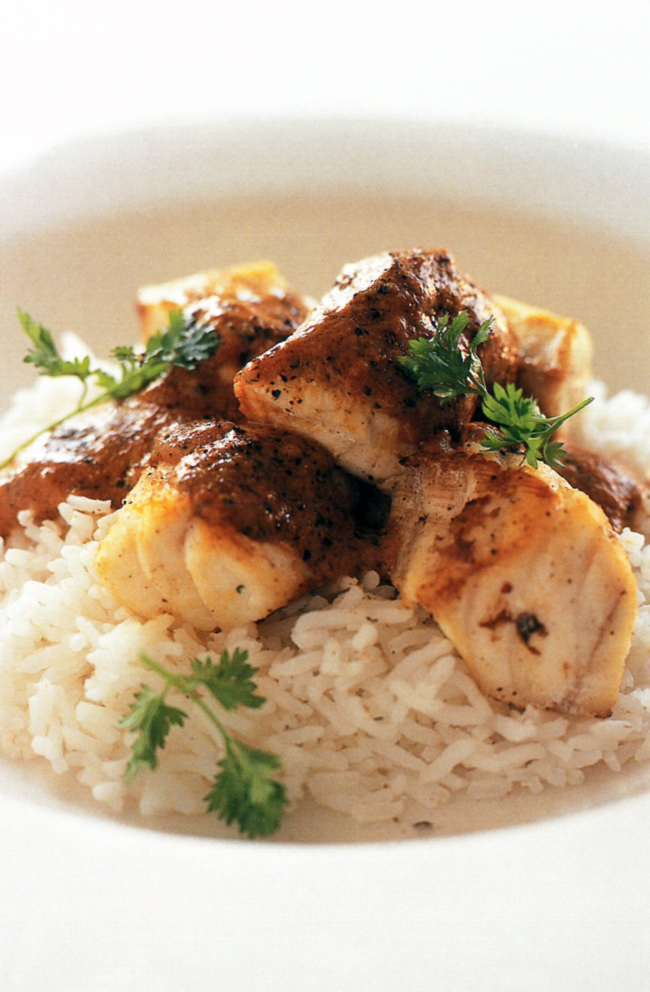 Australian Institute of Sport - From the "Survival for the Fittest" cookbook
05 Nov 2018
HINT: Ling, ocean perch or jewfish are suitable types of fish for this recipe. The optional vegetables will make this meal complete
no, Spice, survival-for-the-fittest
Spice
Return to top