Fish & chips
Preparation time

15 minutes

Cooking time

60 minutes

Serves

4
Ingredients
4–6 medium potatoes, cut into wedges
oil for cooking
salt, to taste
4 thick slices bread, crusts removed
½ cup grated parmesan cheese
¼ cup parsley
2 eggs
1 tbsp milk
½ cup plain flour
500g whiting fillets
oil for cooking
salad or vegetables, steamed, to serve
Method
Preheat oven to 220°C
Place wedges in a large non-stick baking dish. Pour 1 tbsp oil over potatoes and toss with hands to combine. Season with salt and bake for 40–50 minutes or until cooked through and golden. Turn a couple of times during baking.
Meanwhile, process bread, cheese and parsley until fine breadcrumbs and pour onto a plate or into a shallow bowl. Lightly beat eggs and milk in a separate bowl.
Place flour seasoned with salt & pepper in a plastic bag. Add fish fillets and shake to coat.
Dip floured fish in egg mixture than breadcrumb mixture.
Refrigerate until ready to cook
Heat oil in pan and cook fish fillets 2–3 minutes each side until golden. Drain on paper towel.
Serve immediately with wedges and salad or steamed vegetables.
Nutrition
| ANALYSIS per serve | 4 |
| --- | --- |
| Energy kJ (Cal) | 2191 |
| Carbohydrate (g) | 65 |
| Protein (g) | 43 |
| Fat (g) | 8 |
| Saturated fat (g) | 3 |
| Fibre (g) | 6 |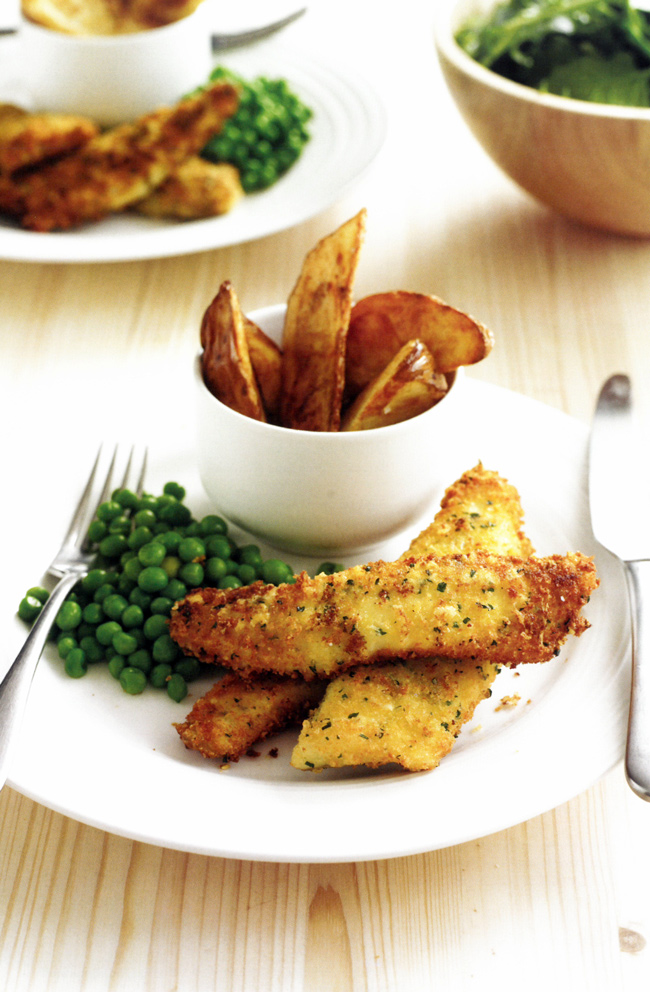 Australian Institute of Sport - From the "Survival for the Active Family" cookbook
05 Nov 2018
, Bakes and Grills, survival-for-the-active-family
Bakes and Grills
Return to top