Fettucine with fresh tomato & chickpeas
Preparation time

10 minutes

Cooking time

10 minutes

Serves

4-6
Ingredients
500 g fettucine
spray olive oil
300 g can chickpeas, rinsed and drained
2 tablespoons capers (optional)
1 small red onion, chopped
4 ripe tomatoes, chopped
1/3 cup chopped fresh parsley
1-2 tablespoons lemon juice, to taste
freshly ground black pepper, to taste
Method
Cook the fettucine in a large pan of boiling water until al dente.
Drain and return to the pan.
Add a spray of olive oil and toss to coat the pasta.
Combine the chickpeas, capers, onion, tomatoes and parsley.
Season with the lemon juice and black pepper, and serve with the fettucine.
HINT: This dish is best made using ripe, flavoursome tomatoes when they are in season
Nutrition
| ANALYSIS per serve | 4 | 6 |
| --- | --- | --- |
| Energy kJ (Cal) | 2235 (534) | 1490 (356) |
| Carbohydrate (g) | 101 | 67 |
| Protein (g) | 20 | 14 |
| Fat (g) | 4 | 3 |
| Vitamin C, Fibre, Iron | | |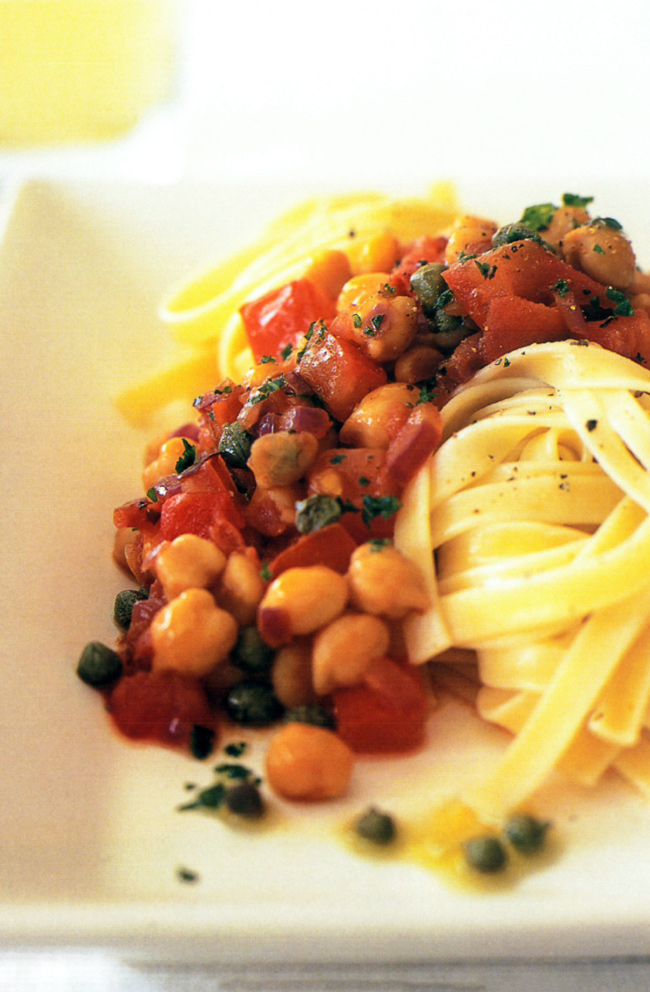 Australian Institute of Sport - From the "Survival for the Fittest" cookbook
05 Nov 2018
HINT: This dish is best made using ripe, flavoursome tomatoes when they are in season
, Pasta, survival-for-the-fittest
Pasta
Return to top