Curried beef potato
Preparation time

15 minutes

Cooking time

60-90 minutes

Serves

2-4
Ingredients
Take 4 large evenly shaped potatoes about 300g each.
Clean them if necessary and pat the skin dry with paper towel.
Pierce the potatoes a few times wiht a small sharp knife and place directly on the shelf of a preheated hot (210oC or 415oF) oven and bake for at least 1 hour (or 1.5 hr for really crispy skins).
When the potatoes are cooked, cut a cross in the top of each one, pull apart, and spoon heated curry over the top.
Method
Spray a nonstick frying pan with oil and heat.
Cook 1 finely chopped small onin over medium heat for 2 minutes or until just soft.
Add 200g lean beef mince and cook for 5 minutes or until browned, breaking up lumps with a wooden spoon.
Stir in 2 teaspoons curry powder, 1 finely choopped tomato, 1 grated zucchini and 1 tablespoon tomato paste.
Cook, stirring, for another 3 minutes.
Spoon the meat over the potatoes and top with a dollop of low-fat natural yoghurt.
Nutrition
| ANALYSIS per serve | 2 | 4 |
| --- | --- | --- |
| Energy kJ (Cal) | 2652 (633) | 1326 (317) |
| Carbohydrate (g) | 93 | 46 |
| Protein (g) | 41 | 21 |
| Fat (g) | 10 | 5 |
| Iron, Vitamin C, Zinc, Fibre | | |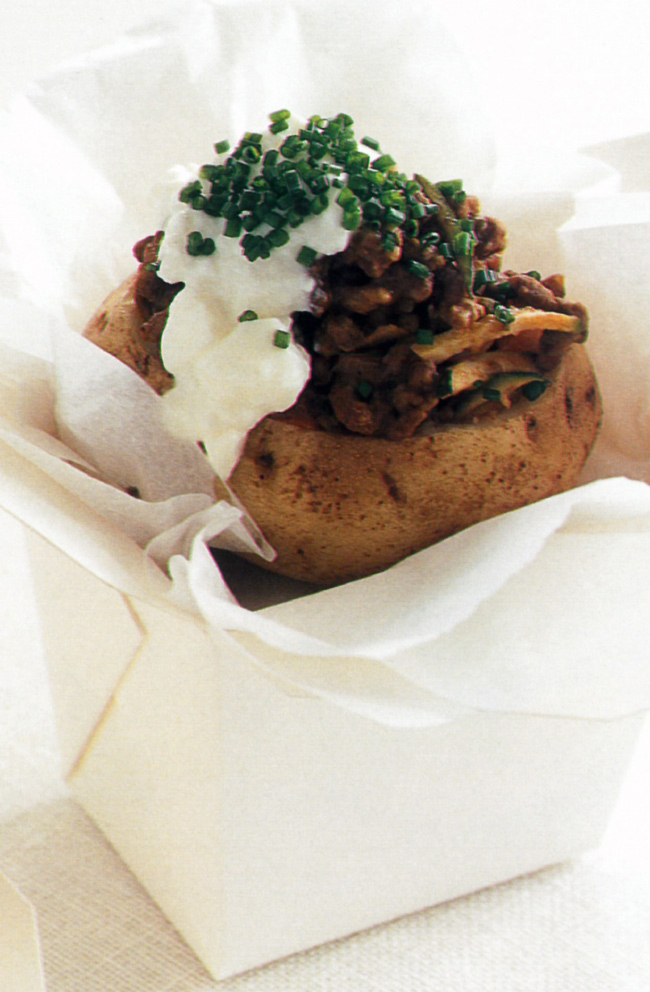 Australian Institute of Sport - From the "Survival for the Fittest" cookbook
05 Nov 2018
, Bakes and Grills, survival-for-the-fittest
Bakes and Grills
Return to top