Ingredients
2 cups rice
olive or canola oil spray
150g green prawns, peeled and deveined with tails left intact
1 1/2 tsp minced garlic
200g beef, sliced
200g chicken breast fillet, sliced
1 cup broccoli florets
1 carrot, peeled and thinly sliced
6 button mushroooms, thinly sliced
1/4 cup canned bamboo shoots, rinsed and drained
1/2 cup snow peas, halved
1 small onion, thinly sliced
1 cup sliced cabbage
1 tbs MAGGI Fish Sauce
2 tbs MAGGI Oyster Sauce
2 1/2 tsp caster sugar
1/4 tsp freshly ground black pepper
Method
Cook rice according to packet instructions.
Spray a non-stick wok or frypan with oil and stirfry prawns over high heat for 3 minutes or until opaque.
Remove and set aside.
Add garlic, beef and chicken and stirfry for 5 minutes or until cooked through.
Add vegetables, sauces, sugar and pepper and stirfry for 2-3 minutes or until vegetables are just tender.
Add prawns and stir-fry until heated through.
Serve with rice.
Tip: Use MAGGI Mince Chow Mein Recipe Mix as a short cut.
Rice can be substituted with MAGGI 99% Fat Free 2 Minute Noodles.
Athletes with high fuel needs (e.g. endurance athletes, athletes who are growing, athletes aiming to increase muscle mass) require extra carbohydrate-based ingredients and a larger serve size
Athletes with low fuel needs (e.g. skill-based athletes, athletes trying to reduce body fat) need to opt for a smaller serve size
Nutrition
ANALYSIS

High Fuel

4

Low Fuel

6

Energy (kJ)

2417

1611

Protein (g)

40

26

Fat (g)

6

4

Carbohydrate (g)

90

60

Iron, Vitamin C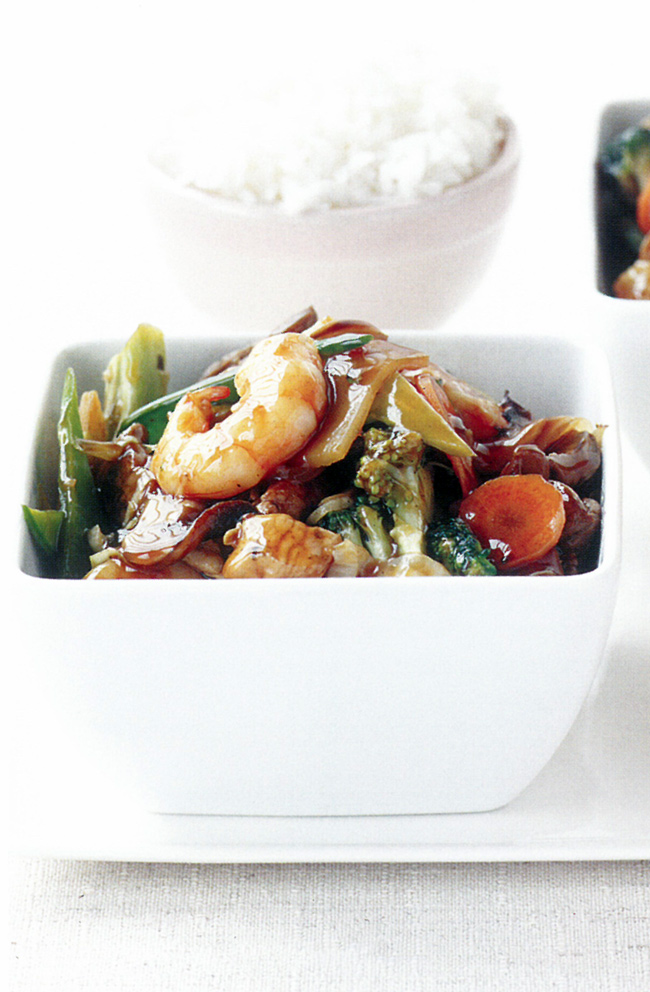 Australian Institute of Sport - From the "Survival Around the World" cookbook
05 Nov 2018
yes, Rice, survival-around-the-world
Rice
Return to top