Cinnamon rolls
Preparation time

20 minutes + 1 hour standing time

Cooking time

20-25 minutes

Serves

18

Freezable

yes
Ingredients
3½ cups plain flour
1 teaspoon salt
2 tablespoons raw sugar
1 tablespoon brown sugar
½ teaspoon cinnamon
7 g sachet dry yeast
1 teaspoon bread improver (optional)
1 teaspoon olive oil
½ cup low-fat milk, at room temperature
¾ cup warm water
Cinnamon filling:
½ cup brown sugar, extra
2 teaspoons cinnamon, extra
1½ cups mixed dry fruit
4 tablespoons margarine
Method
Combine flour, salt, sugars, yeast and bread improver in a large bowl.
Make a well in the centre.
Add oil, milk and water.
Mix with a wooden spoon, then gather dough into a ball and turn out on a lightly floured surface.
Knead for 10 minutes, or until dough is smooth, reflouring the surface, if required.
Lightly spray a large bowl with oil, and place dough in bowl.
Cover with a clean tea towel.
Leave in a warm place for 1 hour, until much increased in size.
Preheat oven to 180°C (350°F).
Lightly grease two large baking trays.
Knead dough again on a floured surface for 1 minute.
Roll out to a rectangle (~35 x 25 cm), about 1 -cm thick.
Combine filling ingredients and spread over dough, leaving a 2-cm border along one long side.
Roll up dough, starting from opposite side to bare edge.
Cut in 2-cm slices with a sharp knife.
Arrange slices on trays, close together with 'ends' on the inside so they don't unroll.
Bake for 20-25 minutes, until browned.
Cool on trays.
HINT: If using a breadmaker, follow manufacturer's instructions for making the dough. Then follow the recipe to shape the cinnamon rolls
Nutrition
| ANALYSIS per serve | 18 |
| --- | --- |
| Energy kJ (Cal) | 804 (192) |
| Carbohydrate (g) | 36 |
| Protein (g) | 4 |
| Fat (g) | 4 |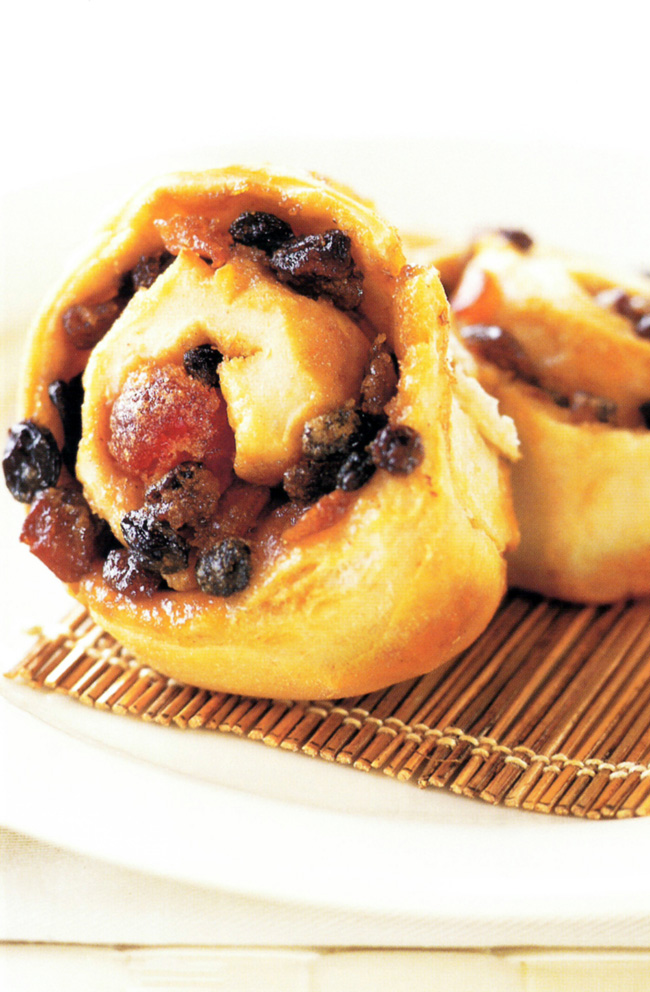 Australian Institute of Sport - From the "Survival from the Fittest" cookbook
05 Nov 2018
HINT: If using a breadmaker, follow manufacturer's instructions for making the dough. Then follow the recipe to shape the cinnamon rolls
yes, Treats, survival-from-the-fittest
Treats
Return to top