Chocolate mousse
Preparation time

30 minutes + 2 hours refrigeration

Cooking time

1 minute

Serves

4-6
Ingredients
1 litre carton low-fat prepared vanilla custard
½ cup NESTLÉ Baking Cocoa
¼ cup icing sugar
3 teaspoons gelatine
2 egg whites
Method
Place custard in a large mixing bowl.
Sift in cocoa and sugar.
Combine gently, using a wire whisk until smooth.
Put 2 tablespoons hot water in a small bowl and sprinkle gelatine over.
Stand bowl in a saucepan with about 1-2 cm hot water, and place over low heat for about 1 minute until gelatine has softened.
Remove bowl from saucepan and whisk gelatine, using a fork to dissolve.
Set aside to cool slightly.
Beat egg whites in a clean dry bowl, with clean beaters, until soft peaks form.
Add egg whites and gelatine to custard mixture and fold gently until combined.
Using a metal spoon or rubber spatula, work carefully so as not to lose the volume from the egg whites.
Transfer to a 6-cup capacity serving bowl, or six individual 1-cup bowls.
Refrigerate for 2 hours until softly set.
Serve with fresh strawberries, if desired.
HINT:For a special garnish, use a vegetable peeler to make chocolate shavings from a block of NESTLE PLAISTOWE Dark Cooking Chocolate, and sprinkle them over the mousse
Nutrition
| ANALYSIS per serve | 4 | 6 |
| --- | --- | --- |
| Energy kJ (Cal) | 1200 (287) | 800 (191) |
| Carbohydrate (g) | 48 | 32 |
| Protein (g) | 15 | 10 |
| Fat (g) | 4 | 3 |
| Calcium | | |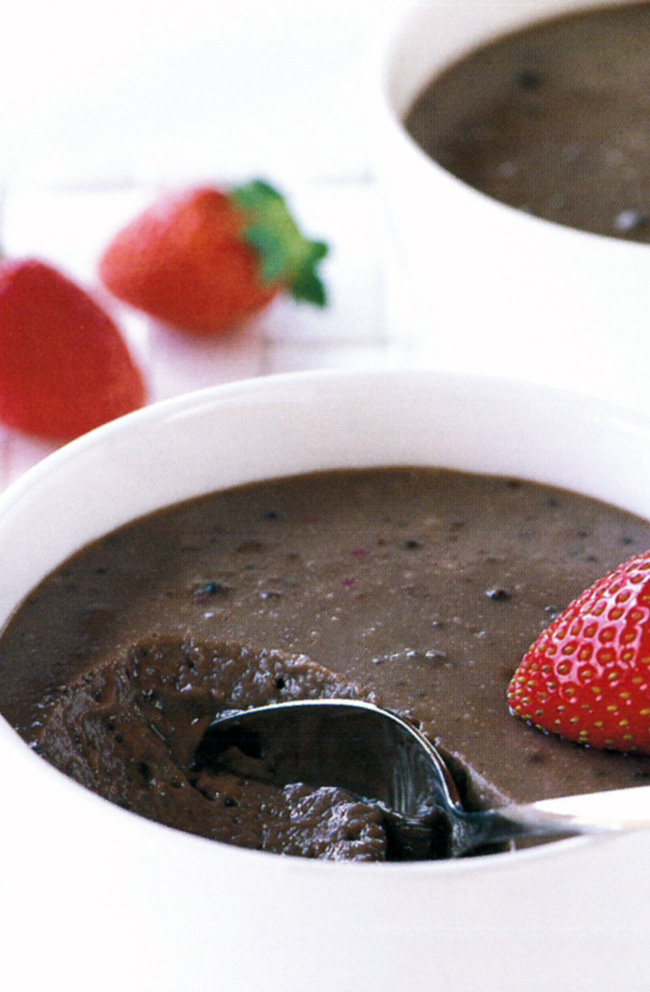 Australian Institute of Sport - From the "Survival from the Fittest" cookbook
05 Nov 2018
HINT:For a special garnish, use a vegetable peeler to make chocolate shavings from a block of NESTLE PLAISTOWE Dark Cooking Chocolate, and sprinkle them over the mousse
no, Treats, survival-from-the-fittest
Treats
Return to top