Walnut & chocolate slice
Preparation time

10 minutes

Cooking time

30 minutes + 15 minutes cooling time

Makes

24
Ingredients
¾ cup plain flour
¾ cup self-raising flour
1/3 cup NESTLÉ Baking Cocoa
1½ cups caster sugar
½ cup roughly chopped walnuts
200g tub SKI D'LITE Vanilla Crème Yogurt
¼ cup olive oil
4 egg whites
2 tsp vanilla essence
NESTLÉ Baking Cocoa, to dust (optional)
Method
Preheat oven to 160°C.
Line a 28cm x 18cm slice pan with baking paper.
Sift flours and NESTLÉ Baking Cocoa into a large bowl. Stir in sugar and walnuts, and make a well in the centre.
Whisk SKI D'LITE Vanilla Crème Yogurt, oil, egg whites and vanilla together in a small bowl. Pour onto dry ingredients, and mix lightly and quickly until just combined.
Spread into prepared pan and smooth the surface.
Bake for 30 minutes, turning pan halfway through cooking.
Cool in the tin for about 15 minutes, then cut into 24 squares.
Dust lightly with extra NESTLÉ Baking Cocoa before serving (optional).
Nutrition
| ANALYSIS per serve | 24 |
| --- | --- |
| Energy kJ (Cal) | 559 |
| Carbohydrate (g) | 21 |
| Protein (g) | 3 |
| Fat (g) | 4 |
| Saturated fat (g) | 1 |
| Fibre (g) | 1 |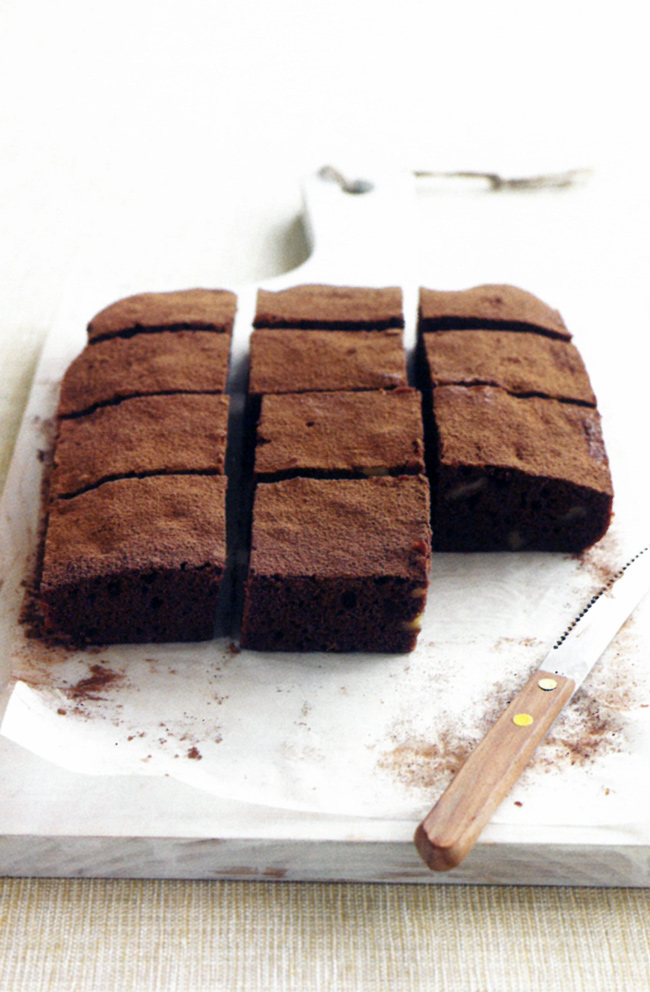 Australian Institute of Sport - From the "Survival for the Active Family" cookbook
13 Mar 2020
, Treats, survival-for-the-active-family
Treats
Return to top