Ingredients
500g plain flour, plus extra for dusting
2 x 7g sachets dried yeast
2 tsp salt
2 tbs caster sugar
1/2 cup chocolate hazelnut spread milk, to brush
Method
Combine flour, yeast, salt and sugar in a large bowl.
Make a well in the centre and add 1 1/2 cups warm water, a little at a time, mixing until a soft dough forms.
Turn dough onto a floured surface and knead for a few minutes, until dough is soft and elastic.
Dust the bowl with flour.
Shape dough into a ball, return it to the bowl and cover with a tea towel.
Place in a warm spot (such as a sunny room or an oven that has been heated briefly and turned off) for about 40 minutes or until dough has doubled in size.
Punch air out of dough and turn out onto a floured surface.
Use a rolling pin to roll dough into a rectangle about 5mm thick.
Heat hazelnut spread in microwave on MEDIUM heat for 25 seconds, then spread over dough, leaving a 2cm border around the edges.
Starting at one of the longer sides of the rectangle, roll dough up to form a long cylinder shape, then roll cylinder to form a snail shell.
Place dough on a tray lined with baking paper and leave to rise in a warm spot for about 1 hour.
Brush the top with a little milk and transfer to a cold oven, set at 180°C (350°F) and bake for 25 minutes or until bread is golden on top.
Athletes with high fuel needs (e.g. endurance athletes, athletes who are growing, athletes aiming to increase muscle mass) require extra carbohydrate-based ingredients and a larger serve size
Athletes with low fuel needs (e.g. skill-based athletes, athletes trying to reduce body fat) need to opt for a smaller serve size
Nutrition
ANALYSIS

High Fuel




6

Low Fuel




8

Energy (kJ)

1772

1329

Protein (g)

10

8

Fat (g)

8

6

Carbohydrate (g)

77

58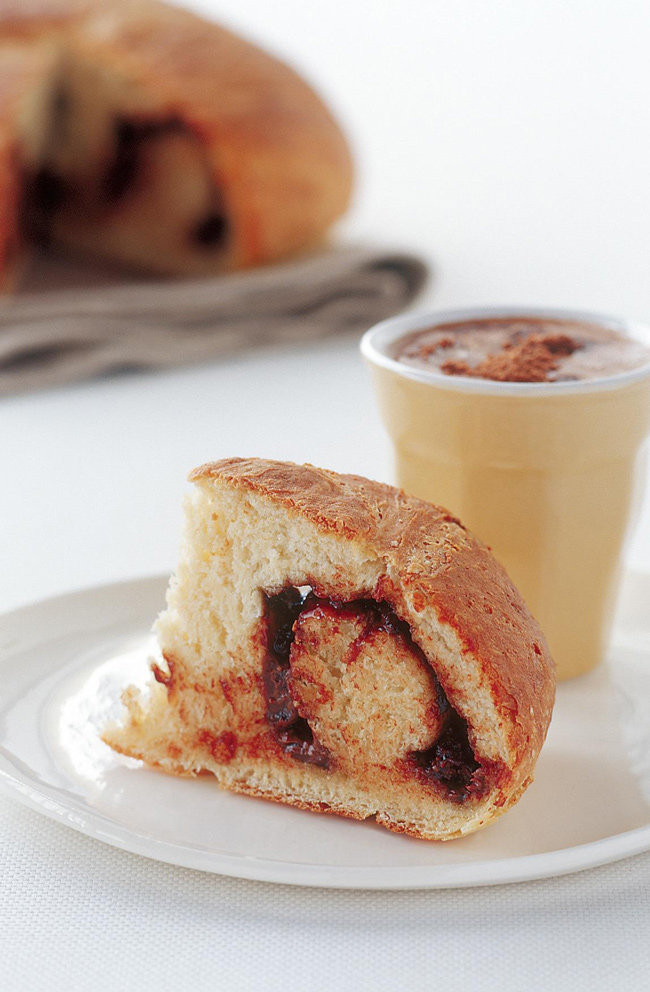 Australian Institute of Sport - From the "Survival Around the World" cookbook
05 Nov 2018
yes, Treats, survival-around-the-world
Treats
Return to top