Chilli beef with choy sum
Ingredients
1-2 cups rice
2 tbs MAGGI Oyster Sauce
2 tbs MAGGI Fish Sauce
juice of 1 lime
1 tsp brown sugar
1 tsp sesame oil
500g beef strips
olive or canola oil spray
1 onion, halved and sliced
2 tsp minced garlic
1-2 tsp minced chilli
1 red capsicum, deseeded and finely sliced
1 bunch choy sum, shredded
100g bean sprouts
230g can bamboo shoots, rinsed and drained
1/4 cup roughly chopped fresh mint
Method
Cook rice according to packet instructions.
Combine oyster and fish sauces, lime juice and sugar in a small jug, set aside.
Heat sesame oil in a non-stick wok or frypan over medium-high heat and stirfry beef in batches until browned.
Remove and set aside.
Spray wok/pan with oil, add onion, garlic, chilli and capsicum and stirfry until onion is soft.
Add choy sum, bean sprouts and bamboo shoots and mix to combine.
Return beef to pan, add sauce mixture and stir until heated through.
Remove from heat and scatter with mint.
Serve with rice.
Athletes with high fuel needs (e.g. endurance athletes, athletes who are growing, athletes aiming to increase muscle mass) require extra carbohydrate-based ingredients and a larger serve size
Athletes with low fuel needs (e.g. skill-based athletes, athletes trying to reduce body fat) need to opt for a smaller serve size
Nutrition
ANALYSIS

High Fuel

4

Low Fuel

6

Energy (kJ)

2489

1405

Protein (g)

37

24

Fat (g)

8

5

Carbohydrate (g)

90

46

Calcium, Iron, Vitamin C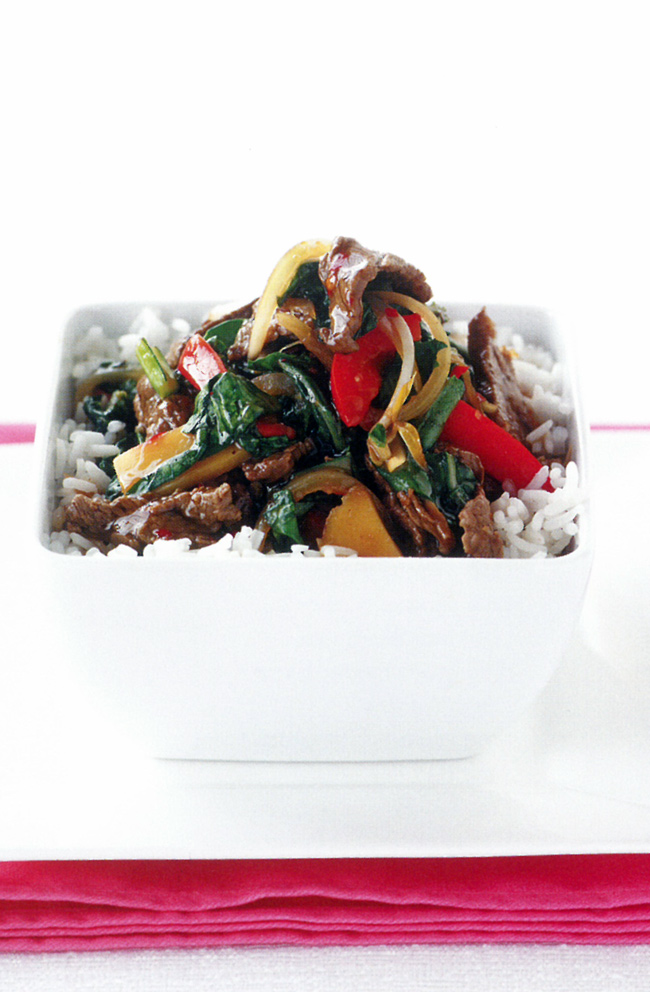 Australian Institute of Sport - From the "Survival Around the World" cookbook
05 Nov 2018
no, Spice, survival-around-the-world
Spice
Return to top