Chicken with mango
Preparation time

15 minutes

Cooking time

20 minutes

Serves

4-6
Ingredients
Spray of canola or olive oil
500 g or two skinless chicken breast fillets, cut into thin strips
1 onion, chopped
450 g butternut pumpkin, cut into 1 cm cubes
1 teaspoon minced garlic
1 teaspoon curry powder
2 tablespoons tomato paste
1 cup light coconut milk
425 ml (1 2/3 cups) apricot nectar
2 tablespoons cornflour
425 g can mango slices, drained
2 cups couscous
Method
Spray a nonstick wok or frying pan with oil and heat.
Cook the chicken in 2 or 3 batches over high heat for 2-3 minutes or until browned.
Remove from the pan and set aside.
Reheat the wok and stirfry the onion and pumpkin for 3 minutes or until soft.
Add the garlic, curry powder and tomato paste, stirfry for 30 seconds.
Stir in the coconut milk, and about three quarters of the apricot nectar.
Bring to the boil, reduce the heat slightly and simmer for about 5 minutes or until the pumpkin is tender.
Return the chicken to the pan.
Put cornflour in a small bowl and gradually add the remaining nectar, stirring until smooth.
Add to pan and stir until the sauce thickens.
Stir in mango slices.
Put the couscous in a heatproof bowl and add 2 cups of boiling water.
Cover tightly for 3 minutes, then fluff up with a fork before serving with the chicken spooned over it.
HINT: Canned mango makes this dish possible year round, but use fresh mango when in season. Add green vegetables to make a complete meal
Nutrition
| ANALYSIS per serve | 4 | 6 |
| --- | --- | --- |
| Energy kJ (Cal) | 3045 (727) | 2030 (485) |
| Carbohydrate (g) | 121 | 80 |
| Protein (g) | 42 | 28 |
| Fat (g) | 8 | 6 |
| Iron | | |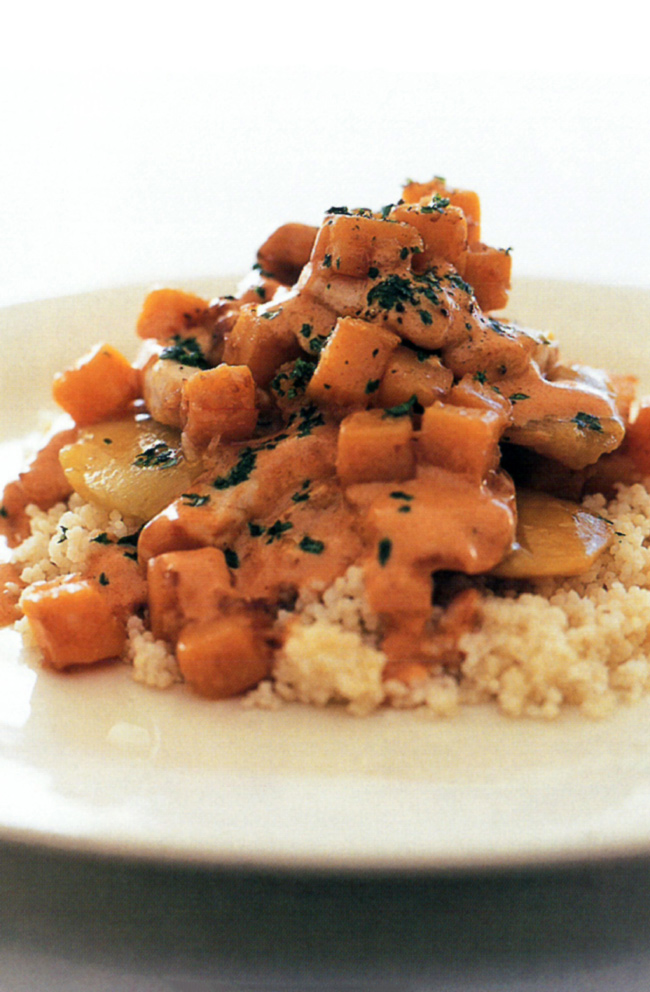 Australian Institute of Sport - From the "Survival for the Fittest" cookbook
05 Nov 2018
HINT: Canned mango makes this dish possible year round, but use fresh mango when in season. Add green vegetables to make a complete meal
, Spice, survival-for-the-fittest
Spice
Return to top