Chicken schnitzel burgers
Ingredients
4 (150g each) single chicken breast fillets
1/4 cup plain flour
salt and freshly ground black pepper
2 eggs, lightly beaten
1 tbs skim milk
1 cup dried breadcrumbs
2 tbs chopped fresh flat-leaf parsley
1/4 cup fat-free mayonnaise
200g lettuce mix
2 tomatoes, sliced
1 cucumber, sliced
4 bread rolls (omit for Low Fuel)
Method
Preheat oven to 200°C (400°F).
Beat or roll each chicken breast between 2 sheets of plastic wrap until about 1cm thick.
Place flour, salt and pepper in a plastic bag and shake until combined.
Whisk eggs and milk together in a bowl.
Place breadcrumbs and parsley in a separate plastic bag and shake until combined.
Place chicken in bag with flour, shake to coat, then shake off excess.
Dip chicken in egg mixture, then toss in breadcrumb mixture.
Place schnitzels on a baking tray in the freezer for 5 minutes, then bake for 20 minutes or until golden.
Assemble burgers with schnitzels, mayonnaise, salad ingredients and bread roll. (For Low Fuel, serve schnitzels with salad only).
Athletes with high fuel needs (e.g. endurance athletes, athletes who are growing, athletes aiming to increase muscle mass) require extra carbohydrate-based ingredients and a larger serve size
Athletes with low fuel needs (e.g. skill-based athletes, athletes trying to reduce body fat) need to opt for a smaller serve size
Nutrition
ANALYSIS

High Fuel




with bread

Low Fuel




no bread

Energy (kJ)

2853

1959

Protein (g)

50

43

Fat (g)

19

16

Carbohydrate (g)

74

35

Iron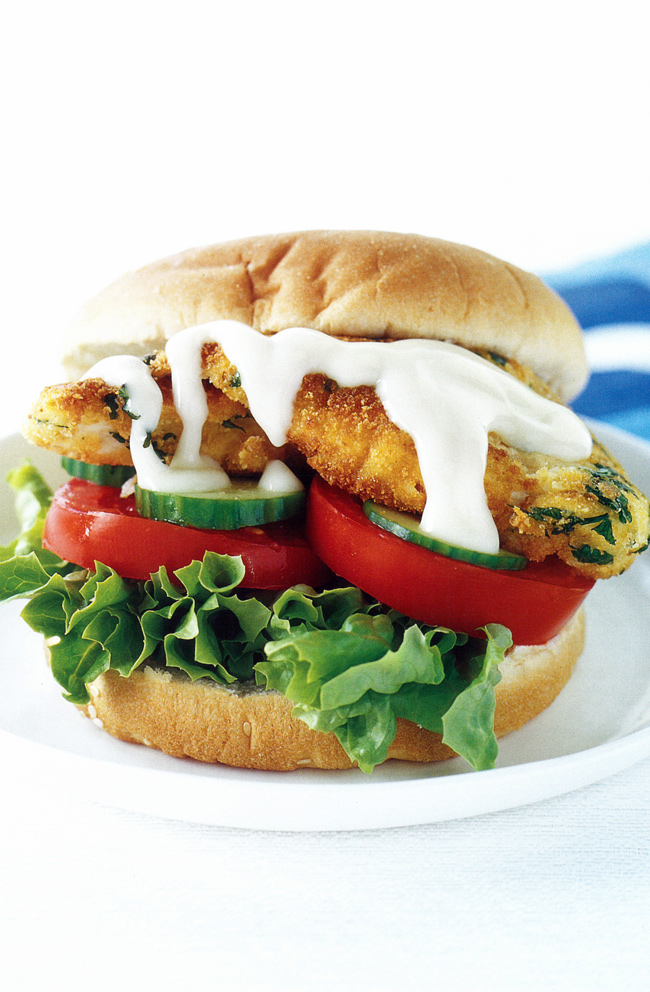 Australian Institute of Sport - From the "Survival Around the World" cookbook
05 Nov 2018
yes, Bakes and Grills, survival-around-the-world
Bakes and Grills
Return to top