Chicken Jambalaya
Preparation time

15 minutes

Cooking time

60 minutes

Serves

6
Ingredients
oil for cooking
500g chicken breast fillet, cut into thin strips
1 onion, diced
½ stick celery, sliced
1 red capsicum, sliced
1 green capsicum, sliced
150g ham, cut into thin strips
2 cups long-grain rice
400g can chopped tomatoes
3 cups chicken stock
¼ cup water
½ tsp dried thyme leaves
300g uncooked prawns, deveined and peeled with tails intact
100g broccoli florets
¼ cup chopped fresh parsley (optional)
Method
Heat oil in a large non-stick saucepan over medium to high heat. Cook chicken in 2 or 3 batches for 5 minutes or until browned.
Remove from the pan and set aside.
Add onion and celery to the pan and cook until just softened.
Add capsicum and ham and cook for 3 minutes.
Add rice and stir until combined.
Add tomatoes, stock, water and thyme. Cook covered over low heat for 25–30 minutes or until the rice is tender, stirring occasionally.
Add chicken, prawns and broccoli and stir to combine. Cook covered for 5 minutes, stirring occasionally or until the broccoli is tender.
Serve immediately. Top with parsley if desired.
Nutrition
| ANALYSIS per serve | 6 |
| --- | --- |
| Energy kJ (Cal) | 1953 |
| Carbohydrate (g) | 59 |
| Protein (g) | 40 |
| Fat (g) | 4 |
| Saturated fat (g) | 2 |
| Fibre (g) | 3 |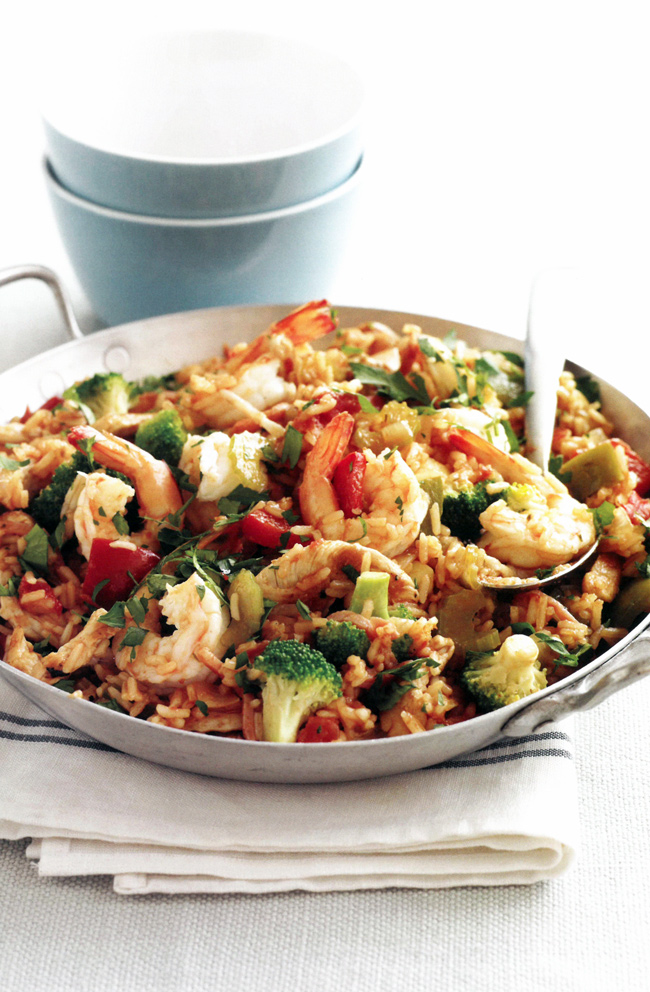 Australian Institute of Sport - From the "Survival for the Active Family" cookbook
05 Nov 2018
, Rice, survival-for-the-active-family
Rice
Return to top