Chicken & vegetable stirfry
Preparation time

15 minutes

Cooking time

20 minutes

Serves

4-6
Ingredients
250 g dried thin egg noodles
spray of canola or olive oil
500 g or two skinless chicken breast fillets, cut into thin strips
2 teaspoons minced ginger
1 teaspoon minced garlic
1 small onion, chopped
1 red and 1 green capsicum, thinly sliced
250 g snow peas, halved
60 ml (¼ cup) plum sauce
2 tablespoons MAGGI Sweet Chilli Sauce
80 ml (1/3 cup) MAGGI Chicken Stock
Method
Cook the noodles in a large pan of boiling water for 5 minutes or until tender.
Drain well then toss with a little oil to prevent them sticking.
Set aside.
Spray a nonstick wok or frying pan with oil and heat.
Cook the chicken in 2 or 3 batches over high heat for 2-3 minutes or until browned.
Set the cooked chicken aside.
Reheat the wok, add the ginger, garlic and the onion and stirfry for 2 minutes or until soft.
Add the capsicum and snow peas and stirfry for about 3 minutes or until tender but still crisp.
Add the sauces and stock and bring to the boil.
Add the noodles and toss to warm through.
Return the chicken to the pan and reheat.
Serve immediately.
HINT: This recipe works well using tofu or nutmeat as a vegetarian alternative to chicken
Nutrition
| ANALYSIS per serve | 4 | 6 |
| --- | --- | --- |
| Energy kJ (Cal) | 2450 (584) | 1630 (390) |
| Carbohydrate (g) | 86 | 57 |
| Protein (g) | 44 | 30 |
| Fat (g) | 6 | 4 |
| Iron, Vitamin C, Zinc | | |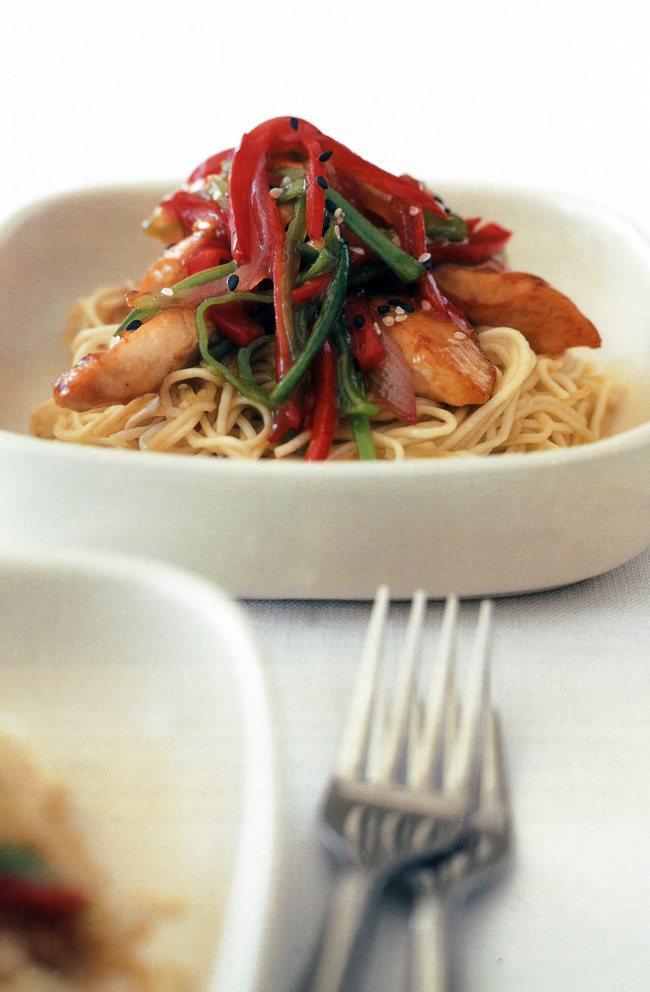 Australian Institute of Sport - From the "Survival for the Fittest" cookbook
05 Nov 2018
HINT: This recipe works well using tofu or nutmeat as a vegetarian alternative to chicken
, Spice, survival-for-the-fittest
Spice
Return to top