Chicken & vegetable rice paper rolls
Ingredients
Dipping sauce:
1 tbs seasoned rice vinegar
juice of 1 lime
1 tbs caster sugar
1/4 cup MAGGI Fish Sauce
1-2 tsp minced chilli
Rolls:
170g MAGGI 99% Fat Free 2 Minute Noodles
200g asparagus, cut into 2cm lengths and blanched
12 x 20cm round rice paper sheets
100g enoki mushrooms
1 Lebanese cucumber, finely sliced
1 small carrot, peeled and grated
1 small red capsicum, deseeded and finely sliced
100g red cabbage, finely shredded
50g bamboo shoots, rinsed and drained
300g cooked chicken, shredded
1/2 cup fresh mint leaves
2 tbs chopped fresh chives
Method
To make the dipping sauce, combine all the ingredients in a small jug or dish and set aside.
Cook the noodles in boiling water for 2 minutes, until soft (do not add seasoning).
Drain and then roughly chop.
Heat asparagus in microwave on HIGH for 2 minutes or until just tender.
Fill a large round dish with warm water.
Place a sheet of rice paper in the water for about 2 minutes or until it softens.
Gently remove from water and place on a clean tea towel.
Place a small amount of noodles, asparagus, mushrooms, cucumber, carrot, capsicum, cabbage, bamboo shoots, chicken, mint and chives in the centre of the rice paper.
Fold the bottom half of the rice paper over the filling completely.
Repeat with the remaining sheets of rice paper.
Serve the rolls with the dipping sauce.
Note: This dish is a starter and should be combined with a meal.
Athletes with high fuel needs (e.g. endurance athletes, athletes who are growing, athletes aiming to increase muscle mass) require extra carbohydrate-based ingredients and a larger serve size
Athletes with low fuel needs (e.g. skill-based athletes, athletes trying to reduce body fat) need to opt for a smaller serve size
Nutrition
| ANALYSIS | Per roll |
| --- | --- |
| Energy (kJ) | 662 |
| Protein (g) | 10 |
| Fat (g) | 5 |
| Carbohydrate (g) | 18 |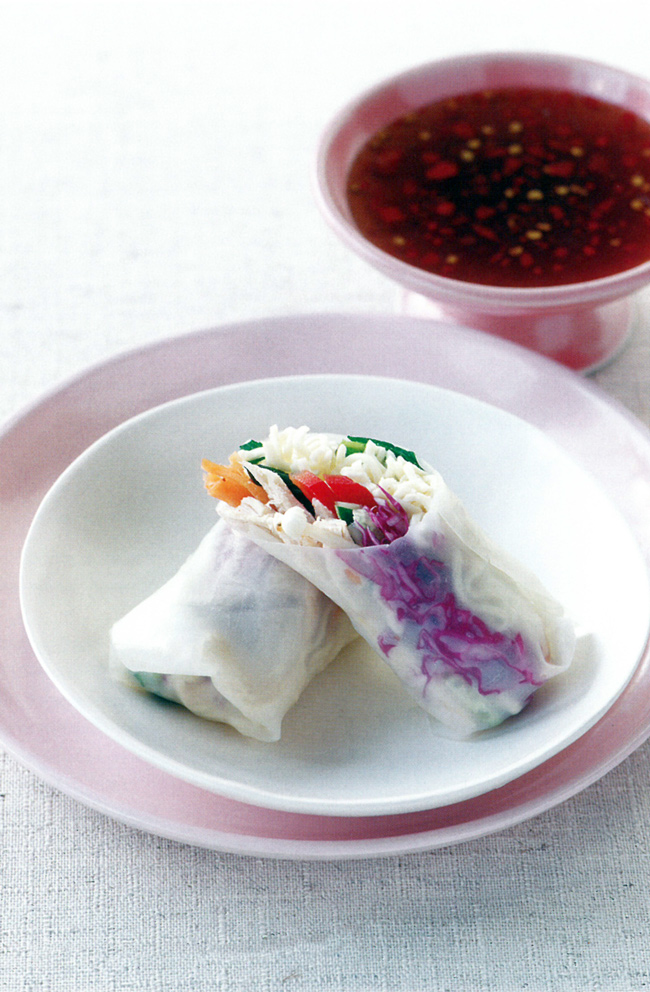 Australian Institute of Sport - From the "Survival Around the World" cookbook
05 Nov 2018
, Sandwiches and Snacks, survival-around-the-world
Sandwiches and Snacks
Return to top