Chicken & date tagine
Preparation time

15 minutes

Cooking time

35 minutes

Serves

6
Ingredients
oil for cooking
500g chicken thigh fillets, cut into chunks
1 red onion, halved and sliced
2 garlic cloves, crushed
1 tsp paprika
1 tsp ground cumin
1 tsp ground turmeric
1 tsp ground cinnamon
400g can chopped tomatoes
grated rind and juice of 1 lemon
1½ cups chicken stock
¼ cup pitted black olives, halved
2 small zucchini, diced
¼ cup dried apricots
¼ cup dates, halved
250g green beans, sliced
coriander, to serve
couscous, to serve
Method
Heat oil in a large non-stick frying pan over medium to high heat. Add chicken and cook for 6 minutes or until golden and cooked through. Remove from the pan and set aside.
Add onion and garlic and cook for 4 minutes until softened.
Add paprika, cumin, turmeric and cinnamon and cook for a further minute.
Add chicken, tomatoes, lemon rind and juice, stock, olives, zucchini, apricots and dates and simmer for 20–25 minutes.
Add green beans and cook until just tender. Top with coriander and serve with couscous.
Nutrition
| ANALYSIS per serve | 6 |
| --- | --- |
| Energy kJ (Cal) | 830 |
| Carbohydrate (g) | 14 |
| Protein (g) | 18 |
| Fat (g) | 2 |
| Saturated fat (g) | 2 |
| Fibre (g) | 4 |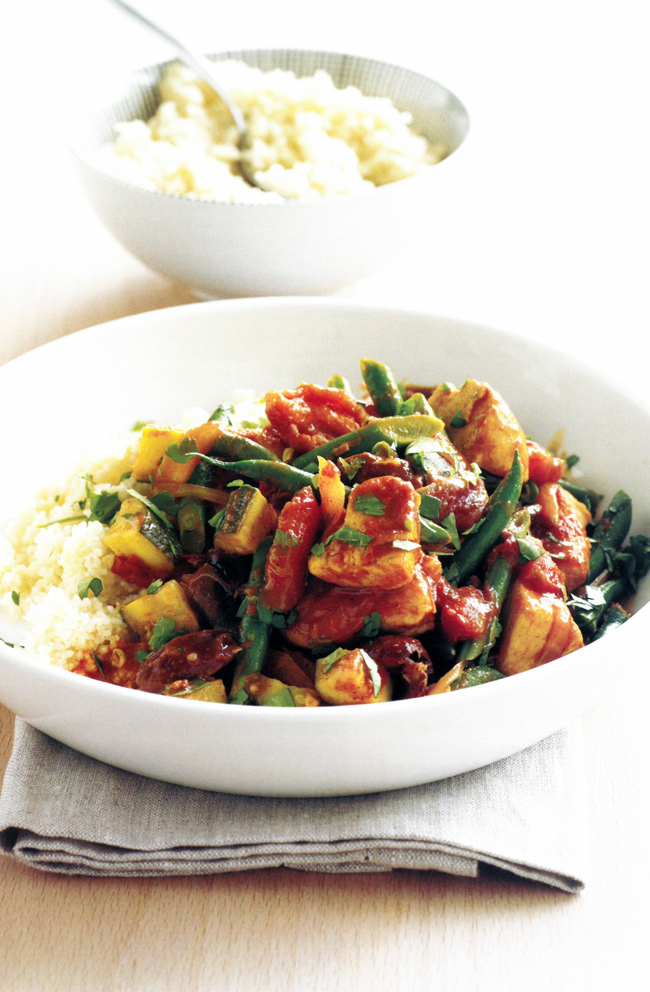 Australian Institute of Sport - From the "Survival for the Active Family" cookbook
05 Nov 2018
, Rice, survival-for-the-active-family
Rice
Return to top