Chicken & corn risotto
Preparation time

15 minutes

Cooking time

30 minutes

Serves

3-4
Ingredients
Spray of canola or olive oil
1 onion, finely chopped
1½ cups arborio rice
400 g chicken breast fillet, cut into strips
425 g can baby corn cuts, drained
1 small red capsicum, chopped
1 cup frozen peas
750 mL (3 cups) MAGGI Chicken Stock
½ cup tomato-based pasta sauce
2 tablespoons chopped fresh basil
2 tablespoons chopped fresh parsley
freshly ground black pepper, to taste
Method
Spray a large pan with oil and heat. Add the onion, rice, chicken, corn, capsicum and peas.
Cook, stirring, over medium heat for 2 minutes.
Add the stock and pasta sauce and stir until well combined.
Bring to the boil, reduce the heat to low and simmer, covered, for 20-25 minutes.
Stir frequently until the rice is tender and the liquid is almost all absorbed.
Remove from heat and stand, covered, for 5 minutes.
Stir in the herbs and season to taste before serving.
HINT: Always measure liquid accurately using proper measuring cups (available at supermarkets), not tea or coffee cups, so the rice cooks correctly. You can also replace the frozen peas with broccoli
Nutrition
| ANALYSIS per serve | 3 | 4 |
| --- | --- | --- |
| Energy kJ (Cal) | 2615 (625) | 1960 (468) |
| Carbohydrate (g) | 96 | 72 |
| Protein (g) | 44 | 33 |
| Fat (g) | 7 | 5 |
| Vitamin C, Iron, Zinc | | |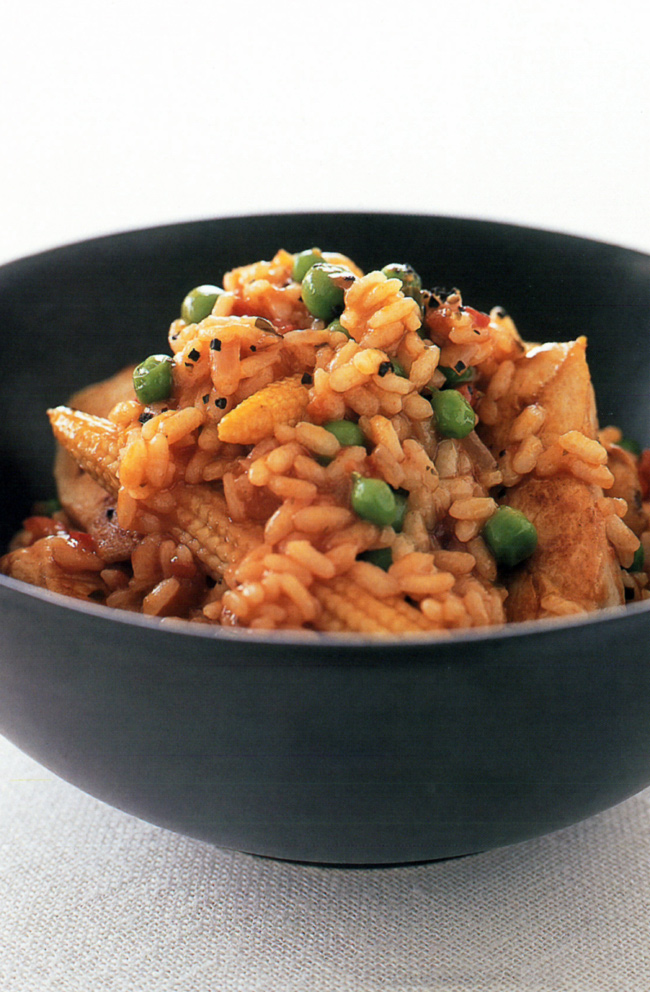 Australian Institute of Sport - From the "Survival for the Fittest" cookbook
05 Nov 2018
HINT: Always measure liquid accurately using proper measuring cups (available at supermarkets), not tea or coffee cups, so the rice cooks correctly. You can also replace the frozen peas with broccoli
, Rice, survival-for-the-fittest
Rice
Return to top