Chicken & corn potato
Preparation time

15 minutes

Cooking time

60-90 minutes

Serves

2-4
Ingredients
4 large evenly shaped potatoes, about 300 g each
1 cup finely shredded cabbage
1 small grated carrot
1 finely sliced spring onion
1½ tablespoons low-fat coleslaw dressing
130 g can creamed corn
1 cup sliced or shredded chicken (use pre-cooked barbecue chicken or pan-fry a small breast fillet)
Method
Clean the potatoes if necessary and pat the skin dry with paper towel.
Pierce the potatoes a few times with a small sharp knife and place directly on the shelf of a preheated hot (210°C or 415°F) oven and bake for at least 1 hour.
Leave in the oven for 1½ hours for really crisp skins.
Meanwhile, make a coleslaw by combining cabbage, carrot, spring onion and dressing.
Warm the creamed corn in the microwave or on the stove in a small saucepan.
When the potatoes are cooked, cut a cross in the top of each one, pull apart, and spoon creamed corn over potato.
Divide chicken between the potatoes.
Top with coleslaw and serve.
Nutrition
| ANALYSIS per serve | 2 | 4 |
| --- | --- | --- |
| Energy kJ (Cal) | 2718 (649) | 1359 (325) |
| Carbohydrate (g) | 103 | 51 |
| Protein (g) | 41 | 21 |
| Fat (g) | 7 | 4 |
| Iron, Vitamin C, Zinc, Fibre | | |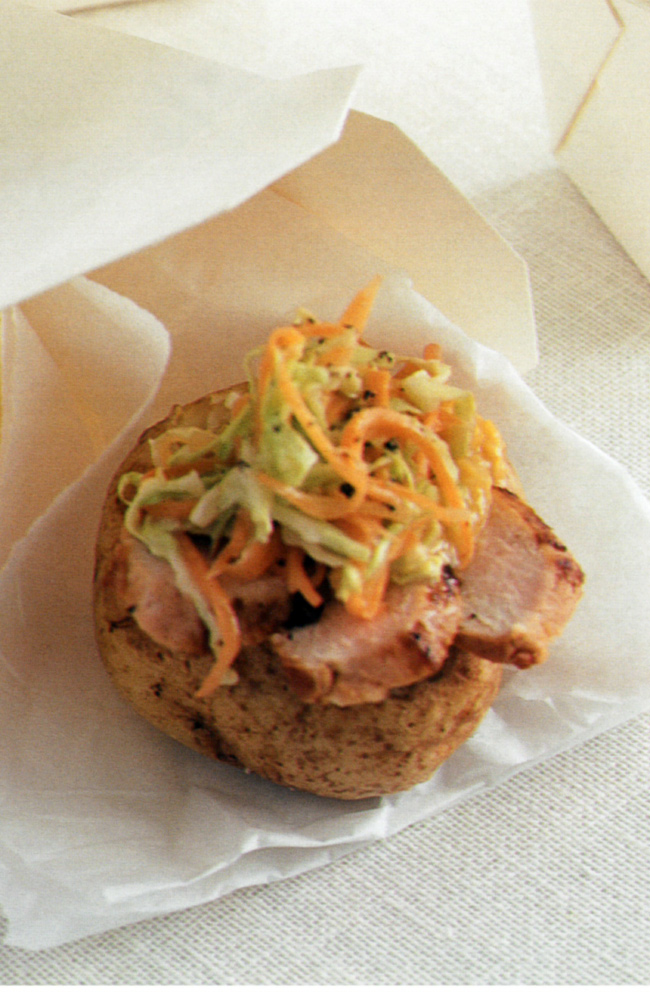 Australian Institute of Sport - From the "Survival for the Fittest" cookbook
05 Nov 2018
, Bakes and Grills, survival-for-the-fittest
Bakes and Grills
Return to top